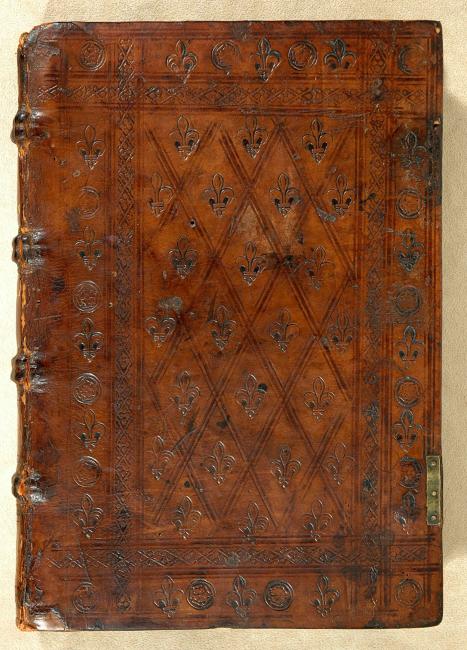 Published:
Papie : [Franciscus Girardengus and] Joa[n]nesantonius Birreta i[m]pressioni tradidit, 1492 die 24 Ianuarij [24 January 1492]
Description:
[4], 173, [1] leaves ; 34 (folio)
Notes:
Title from half-title page, leaf [1]/1r.
Imprint from colophon, leaf y5v: "Papie 1492. die .24. Ianuarii. Joa[n]nesantonius birreta i[m]pressioni tradidit." With printer's mark.
Printed in Birreta's types 15:79G and 16:160G.
Signatures: [1]⁴; a-x⁸ y⁶: 174 leaves, leaf y6 blank.
Paper format: Chancery folio.
Incipit, leaf 1, second sequence: Practica Joa[n]nis Anglici physici clarissimi ab op[er]is presta[n]tia Rosa medicine nu[n]cupata.
Explicit, leaf 173 verso: Explicit ista Rosa pre cu[n]ctis res preciosa ... Eme[n]datu[m] p[er] magistru[m] Nicolaum Scyllaciu[m] siculu[m] Messanum artium doctore[m] in florentissimo Papie[n]si gi[m]nasio ph[ilosoph]i[a]e extraordinariu[m] legentem.
" ... Conati certe summus, vt q[uam] absolutius fieri posset tuus Rosarius a Birreta nostro tui beniuole[n]tissimo, [et] a Fra[n]cisco Girarde[n]go socio [et] co[n]tubernali viro industrio ac dilige[n]ti ad te mitteret[ur] ..."--Leaf [2] verso at beginning.
Printed in 2 columns, 54 lines. Spaces for capitals with guide letters.
Includes index.
Edited by Nicolaus Scyllacius.
PML copy leaf dimensions: 28.7 x 19.8 cm.
Binding:
Contemporary English blind-stamped calf over wooden boards (30.5 x 21 cm.), sewn on 4 supports by a Cambridge(?) binder (see Oldham, Blind-tooled bindings, DI. a(4)); repaired by Duprez Lahey. Plain paper pastedowns and fly leaves; plain endbands.
Variant Title:
Title from ISTC: Rosa anglica practica medicinae
Inscriptions/Markings:
Hand decoration: Rubrication unrealized. Annotations: Contemporary English and Latin marginal notations throughout. Manuscript title on fore and bottom edges.
Provenance:
George Burdman, inscription: "Su[m] Georgii Burdma[n]ni [??] dominum," 15th/16th century (leaf a1r); Arthur Hugh Smith Barry, baron Barrymore (1843-1925), Marbury Hall, armorial bookplate and library shelf mark plate: 3 no. 239 (front pastedown); Pierpont Morgan Library, purchased from W.H. Robinson, Sept. 1933.