April 2 through August 1, 2010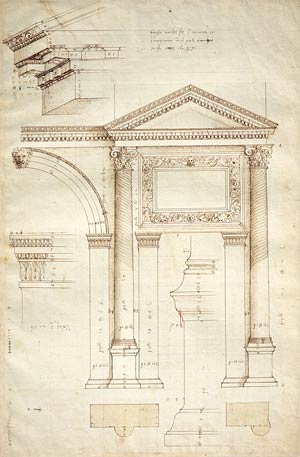 Palladio and His Legacy: A Transatlantic Journey features thirty-one original Palladio drawings from the Royal Institute of British Architects. These exquisite drawings, which were exhibited only once before in America and never in New York, will be on view to the public for the first time in over thirty years. They are being presented with rare architectural texts to illustrate the journey from Italy to North America of Palladio's design principles of proportion, harmony, and beauty.
Palladio's work has significantly influenced American architecture from colonial times to the present day. Focusing on the artist's original drawings and following the trajectory of his ideas, the show also traces the story of American Palladianism. The drawings are supported by numerous architectural models. Three large examples—the Pantheon, Villa Rotunda, and Jefferson's unrealized design for the White House—programmatically illustrate the journey from Rome to America. Smaller models, along with rare architectural texts and pattern books through which Palladio's ideas were primarily transmitted, reinforce the themes of the exhibition.
The exhibition is organized by the Royal Institute of British Architects Trust, London, in association with the Centro Internazionale di Studi di Architettura Andrea Palladio, Vicenza, and the Morgan Library & Museum, New York. Plaster models are by Timothy Richards.
The exhibition is made possible by the generous support of the Regione del Veneto, Dainese, Richard H. Driehaus Charitable Lead Trust, British Architectural Library Trust, Gladys Krieble Delmas Foundation, Samuel H. Kress Foundation, Center for Palladian Studies in America, Richard Wernham and Julia West, Andrew D Stone, William T. Kemper Foundation, Anne Kriken and Sir John Soane's Museum Foundation.
Related public programs at the Morgan are made possible in part by the Italian Cultural Institute, New York.