February 15 through April 28, 2013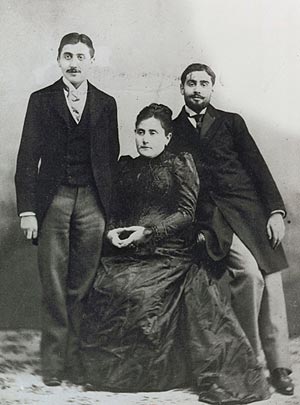 Marcel Proust's In Search of Lost Time is one of the most influential and ambitious literary works of all time. The Morgan celebrates the 1913 publication of the first of its seven volumes, Swann's Way, with a fascinating selection of the author's notebooks, preliminary drafts, galley-proofs, and other documents from the collection of the Bibliothèque nationale de France. The works on display provides unique insight into Proust's creative process and the birth of his masterpiece. Also on view are period postcards with depictions of Illiers, which served as the inspiration for Proust's fictional town Combray, and Paris. Several letters from the Morgan's collection between Proust and his mother, Jeanne, are included.
The Bibliothèque nationale de France has prepared a video and album of images that provide a close look at several of Proust's heavily corrected galley sheets from a volume that is included in the exhibition. Guest curator Antoine Compagnon provides audio commentary. Visit the page »
Marcel Proust and Swann's Way: 100th Anniversary at the Morgan Library & Museum is organized by the Bibliothèque nationale de France and the Cultural Services of the French Embassy with the participation of renowned Proust scholar Antoine Compagnon.
This exhibition is made possible by the Recanati-Kaplan Foundation.
Generous support is provided by Air France, Jean-Marie and Elizabeth Eveillard, Hubert and Mireille Goldschmidt, the Institut français, the Y. A. Istel Foundation, and the Leonard and Elaine Silverstein Family Foundation.