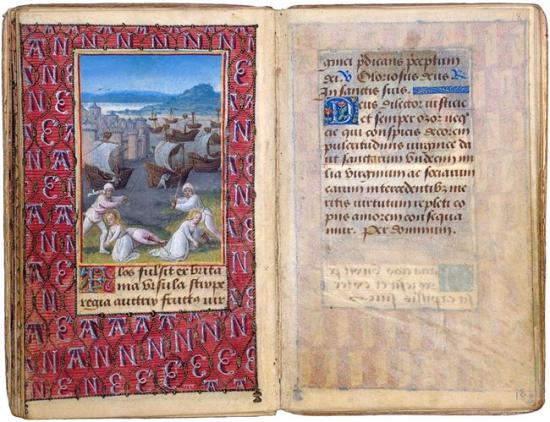 Martyrdom of St. Ursula and Her Companions
Prayer Book of Anne de Bretagne
Illuminated by Jean Poyer
The Pierpont Morgan Library, Purchased in 1905
Item description:
This prayer book was commissioned by Anne de Bretagne, wife of two successive kings of France, Charles VIII and Louis XII, to teach her son, the dauphin Charles-Orland (1492–1495), his catechism. It was painted in Tours by Jean Poyer, an artist documented as working for the queen. The book is richly illustrated, and its thirty-four airy, light-flooded miniatures are among the most delicate examples of late-fifteenth-century art.
Page description:
Martyrdom of St. Ursula and Her Companions (fol. 17v, left)
Eleven ships sail the Rhine River as the flotilla of Ursula and her eleven thousand companions arrive at Cologne, Germany. Ursula's refusal to marry the Huns' leader caused him to slaughter the whole group.
Poyer shows the decapitation of three maidens in the foreground; the martyrdom of the rest of Ursula's eleven thousand companions is suggested by further carnage in the background. Ursula was a particular favorite saint of Anne de Bretagne's because, according to tradition, she was one of the earliest queens of Brittany, Anne's homeland.