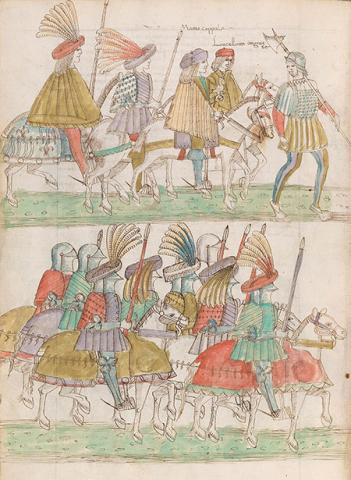 Written and illustrated in Naples, Italy, shortly after 1498, Fasciculus temporum is a compendium of four late medieval chronicles.  The first, Fasciculus temporum, after which the manuscript takes its name, is a summary of world history compiled by the German monk Werner Rolevinck. His text and the thirty pen-and-wash drawings are based on the printed edition with woodcuts published by Erhard Ratdolt in Venice in 1481.

The second text, "Cronaca di Partenope," is an anonymous history of Naples from the early Middle Ages to the start of the fifteenth century.  This is followed, as in many Cronaca manuscripts, by the "Bagni di Pozzuoli," an account of the medicinal Baths of Pozzuoli.  The manuscript concludes with the "Cronaca della Napoli aragonese," describing events in Naples from 1423 to 1498.  This last chronicle was written by the son of Francisco Ferraiolo, who witnessed the triumphal entry into Naples of King Alfonso I in 1443.  It is illustrated with 120 pen-and-ink drawings that are of considerable interest for their detailed portrayals of contemporaneous personages and historical events, as well as Neapolitan life, costume, and landscape.

This paper manuscript of 150 leaves was purchased by the Morgan at the Aldenham Library sale in London, at Sotheby's on 24 March 1937, lot 250.