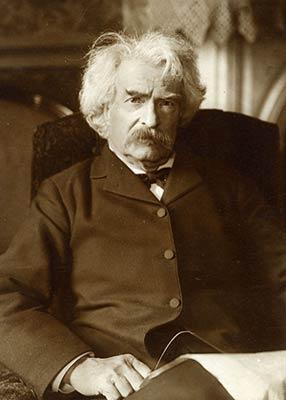 Samuel L. Clemens was born on November 30, 1835. He adopted the pseudonym Mark Twain in 1863, working as a newspaper reporter on the American frontier. Twain's career as travel writer, lecturer, novelist, short story writer, fabulist, and social commentator brought him immense fame and made him "the most conspicuous person on the planet" by the time of his death in 1910.
To celebrate the 175th anniversary of his birth, The Morgan Library & Museum, in partnership with The New York Public Library, presents the iconic author's manuscripts, letters, drawings, books, original illustrations for his books, and posed and candid photographs. These works convey the essence of Twain's acerbic humor and philosophy and explore a central, recurring theme throughout his work—an uneasy, often critical, attitude toward a rapidly modernizing America.
This online presentation includes a selection of works from the exhibition.
This exhibition is generously supported by the Margaret T. Morris Fund for Americana and Mr. and Mrs. Jeffrey C. Walker, with additional assistance from the Gladys Krieble Delmas Foundation, The Carl and Lily Pforzheimer Foundation, and the F. M. Kirby Foundation.