Submitted by

Robin McClellan

on Sun, 05/17/2020 - 12:47pm
Maurice Ravel, 1875-1937. La Valse, arranged for piano.
Autograph manuscript, 1920.
Mary Flagler Cary Collection. Robert Owen Lehman, former owner.
In this time of social distancing, musicians can't gather as they normally do, and there's a lot of ensemble music going unplayed. In response, musicians around the world are staying safe and sane by digging into the solo repertoire. And we're here to help!

The Morgan's vault is chock-full of music manuscripts written by the great composers, from Mozart to Ravel, Schubert to Chopin, Brahms to Webern. Hundreds of these scores are available at your fingertips in our digitized collection, Music Manuscripts Online.

If you're looking for something to play on your own during this time of isolation, we've made a list of the solo repertoire here at the Morgan, with links to the digital images of the original autograph manuscripts. Each manuscript can be downloaded as a PDF, and we've added links to free print editions online where available. So we invite you to print the music or view it on your tablet screen, record or live-stream your performance, and share!

Most of the solo repertoire in the Morgan's collection is piano music, and we've also thrown in a soupçon of violin and flute music just for fun. For households that have multiple persons with keyboard skills, we've included some four-hand keyboard works.

Playing directly from the manuscripts can be thrilling, as it allows you to experience the handwriting of the composer. Many are perfectly legible, while the handwriting in others offers a refreshing challenge. We have even included a few fragments and sketches, which can be especially interesting.

Then we invite you to post your recording or live stream to the platform of your choice, and tag @themorganlibrary plus the hashtag #musicforsocialdistancing. We would love to build a glorious collection of your solo performances, to match our magnificent collection of solo music.

We can't wait to hear you!
Here is our list. (Note: the Morgan is not responsible for content outside our website.)
SOLO PIANO MUSIC AT THE MORGAN
Maurice Ravel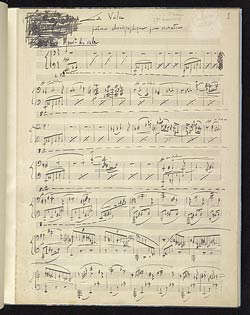 La Valse, arr. Piano
Greatest hit!
Download:

Manuscript

Print edition
(IMSLP)
Felix Mendelssohn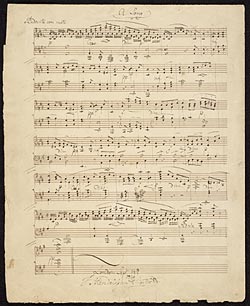 Lieder ohne Worte, piano, op. 19b. Nr. 4
Greatest hit!
Download:

Manuscript

Print edition
(IMSLP) 
Con moto, piano, A major
Short and sweet, just one page.
Download:

Manuscript
This work is unpublished! The manuscript is your source.
Anton Webern
Webern's manuscripts are VERY legible! No print scores required.
Variations, piano, op. 27
Download:


Manuscript
Robert Schumann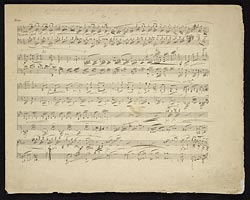 Sonata no. 2, op. 22, G minor. Allegro (Sketches)
Not for the faint of heart!
Download:

Manuscript

Print edition
(IMSLP)
Johannes Brahms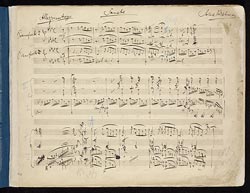 Sonata op. 34b, F minor
The manuscript is a bit hard to read, but worth the effort. For two pianos.
Download:

Manuscript

Print edition
(IMSLP)
Charles-Valentin Alkan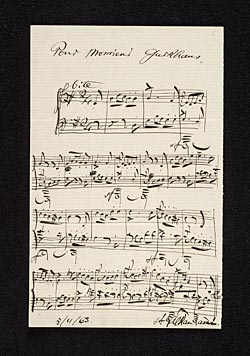 Composition for piano
Short and sweet, just one page.
Download:

Manuscript
OTHER SOLO MUSIC AT THE MORGAN
Anton Fürstenau

Fantasie for Flute
Download:


Manuscript
Robinson McClellan
Assistant Curator of Music Manuscripts and Printed Music
The Morgan Library & Museum