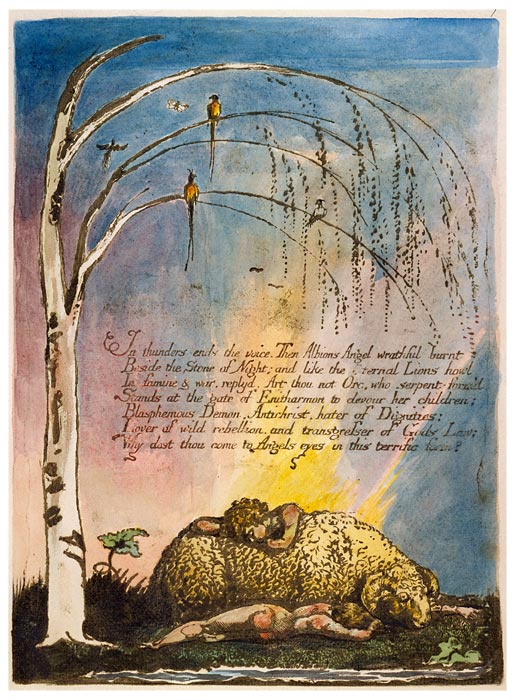 Copy A
Lambeth, 1793 (i.e., 1795)
Purchased by Pierpont Morgan in 1909
Description:
IV. The Continental Prophecies
In 1790, Blake moved to Lambeth, where he produced a trilogy of illuminated books called the Continental Prophecies that addressed the politically charged spirit of his age, embodied by the American and French revolutions. Along with Europe and The Song of Los, America depicts the oppression exercised by monarchies and religions represented by Urizen. Although godlike in appearance, Urizen is a legalistic, despotic figure.
Another central figure is Orc, representing the spirit of revolt, who is frequently associated with images of fire. The frontispiece represents the destruction of war, while the text refers to George Washington, Thomas Paine, and other contemporary figures. America exists in only fourteen copies, five of which were colored and printed during Blake's lifetime. The Morgan also owns an uncolored copy.
Credits:
This online exhibition is presented in conjunction with the exhibition William Blake's World: "A New Heaven Is Begun" on view September 11, 2009, through January 3, 2010.
This exhibition is made possible through the generosity of Fay and Geoffrey Elliott.