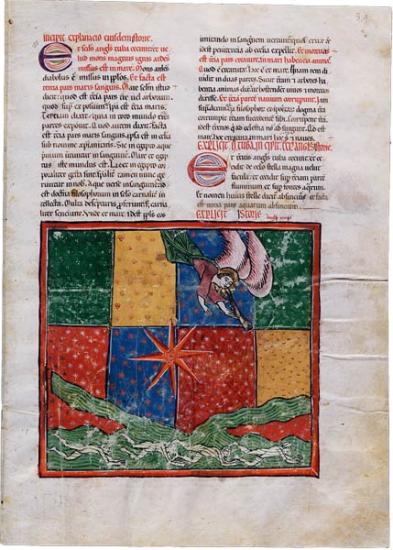 Third Trumpet: Flaming Star Falls in the River
Beatus of Liébana
Las Huelgas Apocalypse
Purchased by Pierpont Morgan, 1910
Page description:
And the third angel sounded the trumpet. And a great star fell from heaven, burning like a torch. And it fell upon a third part of the rivers and upon the sources of water. And the name of the star is called Wormwood. And a third part of the waters were turned into wormwood. And many men died from the waters, because they were made bitter. (Rev. 8:10–11)
The giant burning star is red, but not torchlike as in some Beatus manuscripts. The two green diagonal strips suggest rivers. The four floating, naked dead men, poisoned by the bitter waters, make their first appearance in the earliest surviving Beatus, the Morgan's mid-tenth-century manuscript illuminated by Maius.
About this exhibition:
The Apocalypse, or Book of Revelation, is not only the last Book of the New Testament, but its most difficult, puzzling, and terrifying. It provided challenges to medieval illustrators and was the source for a number of popular images, such as Christ in Majesty, the Adoration of the Lamb, and the Madonna of the Apocalypse and contributed to the widespread use of the Evangelists' symbols.
Selected images from Apocalypse Then: Medieval Illuminations from the Morgan, an exhibition held at the Morgan are presented here. The exhibition celebrates the completion of a facsimile of the Morgan's Las Huelgas Apocalypse—the latest dated (1220) and largest surviving manuscript of a Spanish tradition of illuminated commentaries on the Apocalypse by the monk Beatus of Liébana. The series of manuscripts constitutes Spain's most important contribution to medieval manuscript illumination.
The Las Huelgas Apocalypse contains three sections: the prefatory cycle, the Apocalypse, and the Book of Daniel.
In addition to forty-nine images from the Las Huelgas Apocalypse, six images from other manuscripts in the Morgan's collections, including the earliest Beatus painted by Maius and one by the Master of the Berry Apocalypse, are in this presentation.