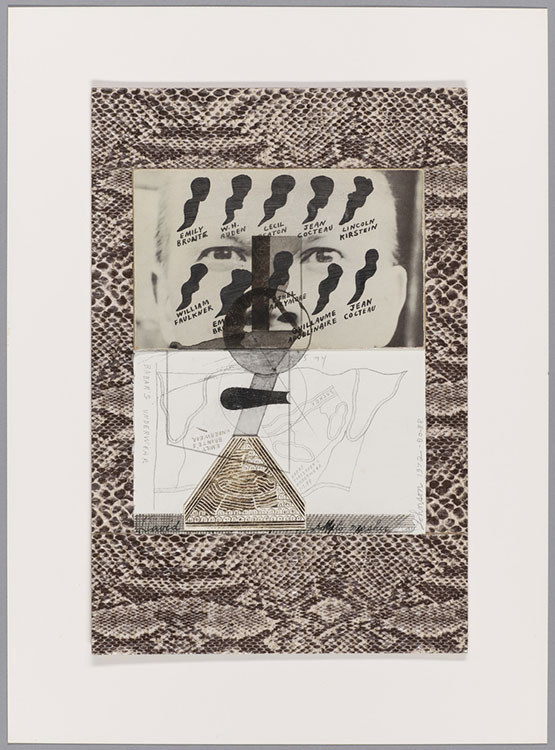 David Hockney's Mother's Potato Masher
Collage on cardboard panel.
20 3/8 x 15 1/4 inches (51.75 x 38.74 cm)
Gift of Frances Beatty, Alexander Adler and the Ray Johnson Estate.
Inscription:
Signed and dated in pencil on recto: "Ray Johnson 1972-80-88; dated at center in pencil "4.15.94."
Notes:
Johnson maintained an underground presence while also cultivating an expansive network of collaborators, primarily through his influential New York Correspondance [sic] School of mail art. Traversing the realms of pop and conceptualism, his primary medium was collage. Like Marcel Duchamp before him, he delighted in wordplay and the absurd. Mounted on a faux-snakeskin backing, this work includes a partial photographic portrait of the artist by Ara Ignatius, superimposed with black glyphs and the names of nineteenth and twentieth-century artists in multiple genres, such as W.H. Auden, Cecil Beaton, and Emily Bronte. A mechanistic form bridges the top and bottom halves of the composition, the lower part of which includes linear drawings of underwear alongside inscriptions such as "Babar's underwear." This collage belongs to a series of Famous People's Mother's Potato Mashers, which was also the title of an exhibition of Johnson's collages at Galleria Schwartz, Milan, in 1972, the year this work was first made. As with many of Johnson's collages, this one has multiple dates, pointing to the self-referential and unresolved nature of his practice.