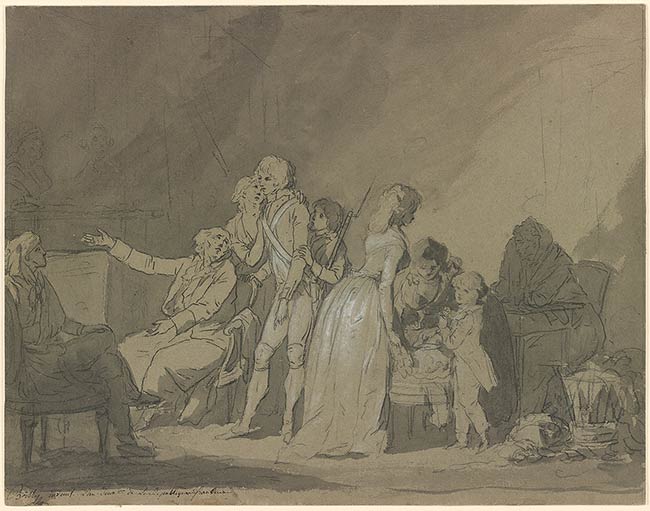 L'Enrôlé Volontaire (The enlisted man)
Black chalk, pen and black ink and wash, with opaque white, on gray paper.
15 7/8 x 20 3/8 inches (403 x 515 mm)
Purchased as the gift of Mrs. Charles Wrightsman.
Inscription:
Signed, inscribed, and dated at lower left in pen and black ink, "Boilly invenit l'an deux.ème de la République française".
Provenance:
According to Harisse, Delestre sale, Paris, 21 November 1895; (no lot given tbckd) Lagrenée, Paris; Galerie Cailleux, Paris.
Bibliography:
Harrisse 1898, p. 167, no. 936; Marmottan 1913, p. 52; Mabille de Poncheville 1931, p. 58; Mabille de Poncheville 1959-60, p. 87.
Ryskamp, Charles, ed. Twenty-First Report to the Fellows of the Pierpont Morgan Library, 1984-1986. New York : Pierpont Morgan Library, 1989, p. 320.
Notes:
Watermark: none visible through lining.
Summary:
This drawing was executed in great haste in 1794 during the Reign of Terror, after Wicar accused Boilly of painting indecent subjects. Boilly composed several works to defend his Republican sympathies and invited the Société Républicaine des Arts, whose committee members included Jean-Baptiste Wicar (Lille 1762-1834 Rome), Petit-Coupray (active in Paris 1791-1810), François Joseph Bosio (Monaco 1768-1845 Paris), and Jacques Philippe Lesueur (1757 Paris 1830), to visit his studio and see this work in which a young soldier bids farewell to his family, as well as "Le Triomphe de Marat" (Musée de Lille), and "La Cocarde Nationale", also known as "Ah! Qu'il est gentil" (present location unknown). As far as is known, the subject of the Morgan drawing was never realized as a painting.