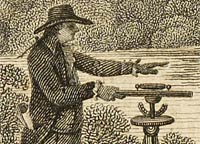 Trade card of Humphry Repton (1788), designed by Repton and engraved by Thomas Medland, from the Red Book of Ferney Hall. Album, 1789. Collection of Mrs. J. P. Morgan, Jr.; 1954.17Born in affluent circumstances, Repton was trained for a commercial career, but he failed in business and retired to a small farm, which proved to be equally unprofitable. He tried his hand at other occupations with no greater success until 1788, when he decided to make his living as a professional landscape designer. An accomplished writer and amateur artist, he had all the necessary skills to express his ideas in illustrated books, such as the manuscript Red Books and his published works, which he used to promote his theories and advertise his services. He inserted this trade card in many of his Red Books and used it to solicit business from potential customers. Through his social connections, he received prestigious commissions from the landed nobility of England, who treated him more like a houseguest than a tradesman. The Prince of Wales invited him to work on the Brighton Pavilion, which he proposed to redesign in an Indian style inspired by the illustrations in Thomas and William Daniell's Oriental Scenery (1795–1807).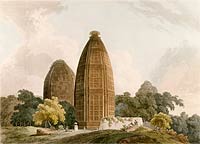 Thomas Daniell (1749–1840), Hindoo Temples at Bindrabund on the River Jumna, illustration in Oriental Scenery. London, 1795–1807 (PML 75754–64) Deep in debt, the prince could not pay him to carry out his plans, but Repton published them nonetheless in a splendid portfolio, Designs for the Pavillon at Brighton (1808).

Repton's fame grew to the point where he became a target for satire and a subject of controversy. His affectations and ingratiating manners gained him the reputation of a "coxcomb." He appeared as the fatuous Marmaduke Milestone in Thomas Love Peacock's comic novel Headlong Hall. Jane Austen took a swipe at Reptonian improvements in Mansfield Park, although actually she was not mocking him so much as his disciples' craven admiration of fashionable novelties. He stoutly defended himself against the attacks of gentlemen amateurs who condemned his businesslike approach to landscape design and advocated instead a style based more closely on the principles of the Picturesque.

The Brighton project marked the peak of Repton's career. In his later years, he obtained fewer commissions from his usual clientele—wealthy landowners, who had to cope with political disputes, social stress, and economic turmoil during the Napoleonic Wars. Health problems and injuries sustained in a carriage accident confined Repton to a wheelchair and made it increasingly difficult for him to survey an estate. An invalid, he retired from active life to tend a modest garden by his cottage, where he died in 1818.