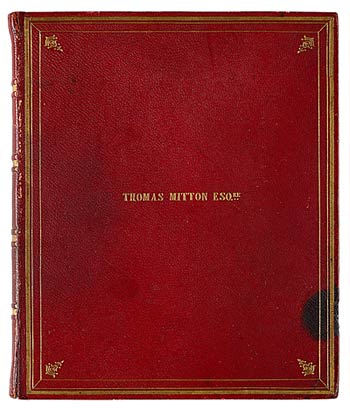 After A Christmas Carol was printed in December 1843, Dickens sent the manuscript to a bookbinder (possibly Thomas Robert Eeles of Cursitor Street, London) to be bound in red morocco, a handsome, durable goatskin leather suitable for dying in strong colors such as the rich crimson that was chosen for this binding. Dickens presented the bound manuscript to Thomas Mitton, his close friend and creditor, possibly as a Christmas gift, and certainly in gratitude for a generous loan that Mitton had recently provided. The binding is elegantly decorated in gilt, with the name "Thomas Mitton Esqre" stamped on the front cover.

In 1875, five years after Dickens's death, Mitton sold the manuscript to Francis Harvey, a London bookseller. Harvey is believed to have paid Mitton £50 for it, and he sold it almost immediately to Henry George Churchill, a private collector who, when he heard that the manuscript was for sale, "immediately hailed a cab to convey him to the West End where he ascertained the price, wrote out a cheque for the amount, and bore off the prize in triumph," according to Dickens scholar F. G. Kitton.

Churchill retained the manuscript in his collection until 1882, but then decided to sell it through a bookseller named Bennett, based in Birmingham, England. Crowds reportedly gathered there for an opportunity to view the manuscript before it was sold for £200 to the London booksellers Robson and Kerslake. It was soon sold again, this time for £300, to Stuart M. Samuel, who bought it purely as an investment.

Sometime before 1900, the famous American financier Pierpont Morgan acquired the manuscript from the London bookseller J. Pearson & Co., which had acquired it in 1890 from Stuart M. Samuel for £1,000. The amount Morgan paid for A Christmas Carol remains unknown, but it would most likely have cost him 10 or 20 percent more than what Pearson paid Samuel.

On Morgan's death in 1913 the manuscript was bequeathed to J. P. Morgan Jr., who in 1924 established The Pierpont Morgan Library in his father's honor. A Christmas Carol remains one of the most important literary manuscripts in the Morgan's collection.