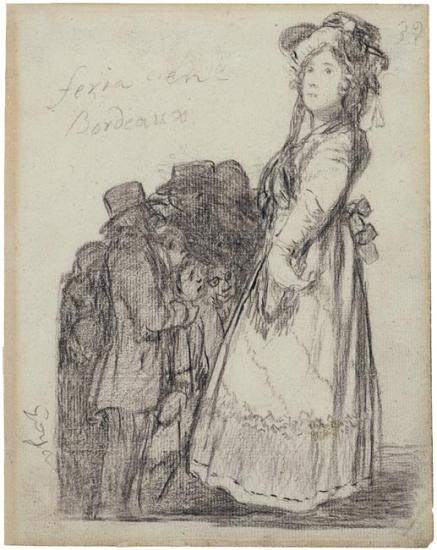 Inscribed and numbered by the artist at upper center, in black crayon, feria en – / Bordeaux, at upper right, 39
Black chalk on light green paper
7 9/16 x 5 15/16 inches (192 x 150 mm)
Gift of Gertrude Weyhe Dennis in honor of Felice Stampfle on the occasion of the 75th anniversary of the Morgan Library and the 50th anniversary of the Association of Fellows
Item description:
THE FEMALE GIANT
In 1826 Goya made several drawings depicting attractions at the fair in Bordeaux. One such spectacle was the female giant, whom he portrayed towering over a crowd of ogling sensation seekers. By compressing this group, Goya created a margin to the left where he has added his signature. The pentimento of the woman's right arm, previously raised above the crowd, accentuates the crude gaze, directed at her anatomy, of two male spectators. Goya thus offers an inverted vision of humanity by contrasting the dignity of the fairground freak with the indecorous stares from the crowd below.
About this exhibition:
From the sixteenth to nineteenth centuries, Spain witnessed the rise of the Catholic Church along with the flourishing of court artists who explored deeply spiritual visions. Concurrently, the nightmare of the Inquisition drove artists to probe the darker side of human nature through scenes of martyrdom and torture. Drawing played a central role in their conception of these diverse subjects—from Murillo's preparatory studies for painting commissions to Goya's private albums satirizing contemporary society. In addition to this rich tradition in Spain, Spanish artists also worked abroad, notably in Naples, which was a Spanish territory.
Visions and Nightmares marks the first exhibition of Spanish drawings at the Morgan, whose holdings in this area are small but significant. Showcasing over twenty sheets by Spanish artists spanning four centuries, this selection traces the shifting roles and attitudes toward the art of drawing in Spain.