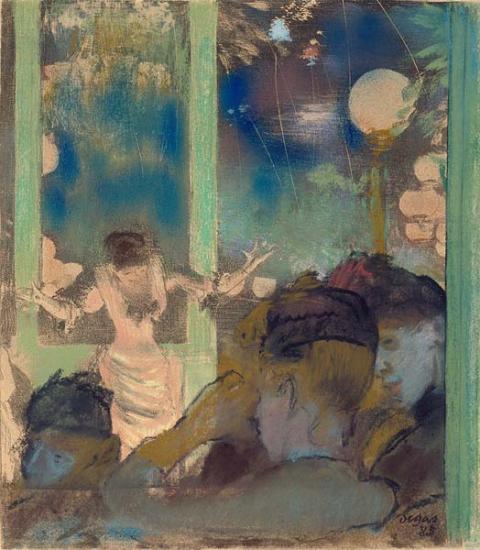 Mademoiselle Bécat at the Café des Ambassadeurs, 1877/85
Signed and dated at lower right, in pastel, Degas / 85.
9 1/16 x 7 7/8 inches (230 x 200 mm)
Item description:
This vivid scene of a performance by the famed chanteuse Emilie Bécat at the Café des Ambassadeurs captures the spectacle and excitement of the outdoor café-concert in fin-de-siècle Paris. Degas was a frequent visitor to this popular and coarse form of entertainment for a brief period during the late 1870s and used it as inspiration for compositions, such as this 1877 lithograph that he reworked in pastel nearly a decade later. The three silhouetted female spectators in the immediate foreground—added entirely in pastel to the underlying print—contrast with the spotlighted singer, who is performing her frenzied, comic dance, with arms raised and fingers splayed, in her trademark style épileptique.