The Morgan Library & Museum proudly presents the 2016–2017 Morgan Book Project Award Ceremony May 12, 2017.
"Arts at the Core of Collaboration and Cross Curricular Skills"
 In the News: Teaching Children the Value of Pre-Web Pages — The New York Times
Visual Arts and ELA teachers collaborating
on the design and writing of their book.
The Morgan Book Project is a free program, in which the Morgan collaborates with New York City public school teachers to develop a unit of study designed to engage students in writing, illustrating, and building a book. The Morgan Book Project Award is the program's culminating event.

THE PROGRAM
The Morgan Book Project follows an eight-month timeline:
School Year 2017-18 Timeline:
The Summer Institute for Teachers (Grades 3-6): JULY 11–14, 2017  
The Summer Institute for Teachers (Grades 7-12): AUGUST 15–18, 2017
Technical Support Meeting: Thursday, DECEMBER 14, 2017, 4 to 6pm
Class Project: OCTOBER 2017 through MARCH 2018
Book submission to jury: Friday, MARCH 30, 2018
The Morgan Book Project Award: Friday, MAY 11, 2018
Illuminating the Classroom Exhibition: MAY 15– JUNE 12, 2018
THE BOOKS
The books are created with professional grade paper and binding material which, is supplied by the Morgan at no cost for New York City Public Schools. The students make their own paint by grinding traditional pigment sources such as malachite, saffron, and insects. They complete their illustrations with 22 karat gold leaf. 
The Summer Institute for Teachers
These two four-day workshops are designed to accommodate teaching pairs of one Visual Arts teacher and one Social Studies or Language Arts or classroom teacher of grades 3 to 12.
Participants in the Summer Institute for Teachers are eligible to receive 2 P-Credits from the NYC Department of Education's After School Professional Development Program (ASPDP).

Teachers will:
Discover
the Morgan as a resource and complement to the Common Core State Standards for English Language Arts & Literacy in History/Social Studies, Science, and Technical Subjects, as well as The New York City Department of Education Blueprint for Teaching and Learning in the Arts
Examine
exceptional primary sources, including medieval and Renaissance manuscripts from the Morgan's collection.
Explore
Collaborative planning
Activities offering cross-disciplinary models that support the five strands of the Blueprint for the Arts
Strategies to teach basic book art techniques in the classroom
Tools and resources to meet the professional criteria outlined in Charlotte Danielson's Framework for Teaching Evaluation Instrument.
Develop
A comprehensive cross-disciplinary unit of study around an integrated art project for implementation in the 2016–2017 school year
A handmade book using traditional professional grade materials
Handouts include:
Two teacher's guides: Illumination for the Classroom and Build an Accordion Book.
Reference material related to book arts
Materials:
Professional grade bookbinding material, as well as traditional and unique art supplies to carry out the book project in the classroom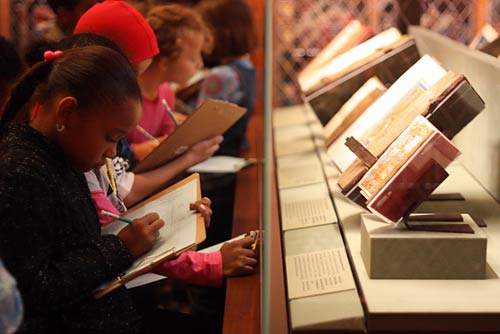 Students exploring medieval and Renaissance manuscripts in Mr. Morgan's Library.
TIMELINE OVERVIEW FOR SCHOOL YEAR 2017-18:
OCTOBER through NOVEMBER 2017
Class trip to the Morgan
Students will draw upon the Morgan's superb collection of illuminated manuscripts and relate them to world history in a way that will deepen their understanding of cultural identity and interaction among diverse peoples across time and space. They will then reflect on the books' aesthetics and make numerous sketches in preparation of their own book projects.

Dates for the class trip will be discussed with teachers during the Summer Institute.

DECEMBER 14, 2017, 4 to 6pm
Technical Support Meeting
A Technical Support meeting of participating teachers and consultants will be held between 4 and 6 p.m. at the Morgan to ascertain the progress of the project and to share challenges and successes.

OCTOBER 2017 THROUGH MARCH 2018
Classroom project
Teacher teams will implement the cross-disciplinary unit of study developed during the Summer Institute as they lead their students in the writing, illustration, and binding of manuscript books. Morgan program staff will be available for support. One Technical Support Meeting will be scheduled in December to address any issues teachers may have with the project.

FRIDAY, MARCH 30, 2018 
Books submission deadline
Teachers submit their best student book projects to a jury of artists, book professionals, and school librarians.
 
Student receiving her Award Certificate in the Gilder Lerhman Hall of the Morgan.
MAY 11, 2018
The Morgan Book Project Award
The award-winning books will be featured in a one-day installation at the Morgan, while the students will participate in an award ceremony conducted in the Morgan's Gilder Lehrman Hall in the presence of their families, schoolteachers, and principals. To see the some of the Morgan Book Project Award winners from previous years, click here.

MAY 15– JUNE 12, 2018
Exhibition: "Inspiring and Illuminating the Classroom"
The judges will select several books among the winning entries to be publicly exhibited at the Morgan for one month.

APPLICATION

Deadlines for Morgan Book Project 2018–19
Early Application Deadline: April 5, 2018
General Application Deadline: June 1, 2018

If selected, applicants will be notified the week following the deadline.
*The first 10 teaching pairs to be accepted in to the program will receive a an annual family pass to the Morgan, including unlimited access to the permanent collection and exhibitions.
Students preparing pigments to make paint.
Who may apply?
This program is reserved for 3rd-12th grade teachers from New York City public schools.
Teachers must apply as a teaching pair. Each pair must include one certified Visual Arts teacher and one certified Social Studies or Language Arts or classroom teacher.

Both teachers in the pair must commit to attend the full four-day Summer Institute. (We reserve the right to reject teachers who arrive without a teaching partner.) Teaching pairs must commit to carry out the project in the classroom and submit three student works to The Morgan Book Project Award on the March deadline.
Teaching artists
The Morgan will provide a limited number of certified teaching artists at no charge to participating schools that do not have a visual arts teacher. For more information please visit this page.

Application Process
To apply please do the following:
Print and fill out the early application form / general application form.
Copy photos of at least three samples of your students' art work done this year or within the past three years onto a CD (JPEG format, 5x4 inches, 300 dpi).
Photocopy at least three samples of your students' writing (any topic) done this year or within the past three years.
Clearly label every item with the school name and address.
Mail application form, CD, and photocopies by April 5, 2018 (early application form) or June 1, 2018 (general application form) to:


The Morgan Book Project/Education Department
The Morgan Library and Museum
225 Madison Avenue
New York, NY 10016
Only the applicants who have been accepted in the program will be contacted.
Please note
Do not e-mail us photos. We may not be able to open the files.
Due to the volume of submissions, we cannot mail back any material that is sent to us.
If you have questions, please contact us at [email protected] or 212.685.008, ext. 509.
The Morgan Book Project is made possible by a generous grant from Marina Kellen French and the Anna-Maria and Stephen Kellen Foundation.