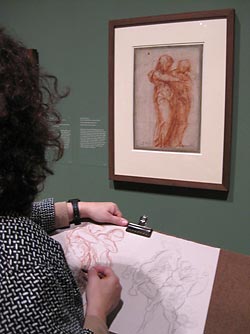 Spend two hours sketching, drawing inspiration from Italian old masters' works in the exhibition Pierre-Jean Mariette and the Art of Collecting Drawings. Susan Stillman, artist and Parsons The New School for Design faculty member, will be available to assist you.

Please note: This program is limited to 12 people on a first come, first served basis. Stools, boards, a selection of pencils, and drawing paper will be provided. While personal sketchbooks are allowed, ink, paint, markers, charcoal, chalk, pastels, folding stools, and easels are not permitted in the galleries.

Programs are generously supported by grants from the Brooke Astor Fund for New York City Education in the New York Community Trust; Great Circle Foundation, Inc.; the May and Samuel Rudin Family Foundation, Inc.; MetLife Foundation; the Milton and Sally Avery Arts Foundation; and by the following endowed funds: The Alice Tully Fund for Art and Music; the William Randolph Hearst Fund for Educational Programs; the Stavros Niarchos Foundation Fund for Education and Technology; and the Herbert and Ann Lucas Fund.
Free with museum admission.
Saturday, March 5, 11 am–1 pm