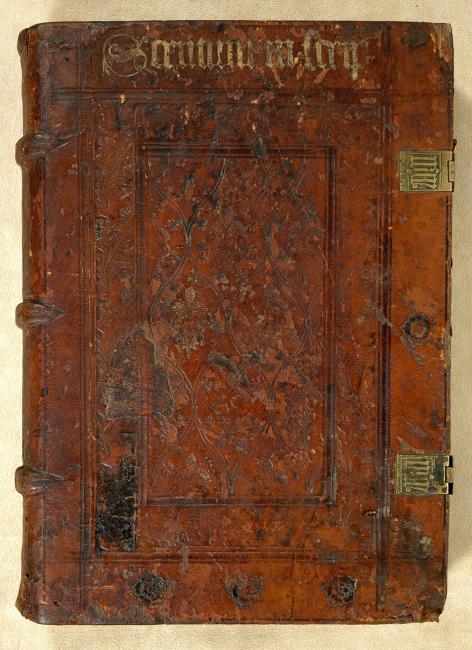 Published:
Mainz : Peter Schoeffer, 7 Jan. 1478.
Description:
[218] leaves ; 30 cm. (fol.)
Credit Line:
Purchased on the L.C. Harper Fund, 1996.
Notes:
Title from incipit (leaf [1]/1r): "Incipit Dyalogus qui vocatur Scrutinium scripturaru[m]."
Imprint from colophon (leaf [22]/5r): "Anno d[omi]ni. Mcccclxxviii. Ad. Vii. Idus ianuarias/ Revere[n]dissimo in [Christ]o p[at]re ac d[omi]no Diethero archip[?]sule maguntino. in nobili civitate maguncia domicilio Minerve firmissimo Scrutinii sc[ri]pturar[um] op[erus] p[re]claru[m]/ Petrus schoffer de gernssheym arte mgra/ suis co[n]figna[n]do scutis feliciter finiuit. [Device]"
Printed in Schoeffer's type 6:92G.
Collation: [1-2¹⁰ 3¹²; 4-7¹⁰; 8-10¹⁰ 11⁸ 12-17¹⁰ 18¹²; 19-21¹⁰ 22⁶]: 218 leaves, leaf [22]/6 blank.
Chancery folio (28.5 x 20.7 cm).
Incipit rubric (leaf [1]/1r) and colophon with device (leaf [22]/5r) printed in red.
PML copy lacks leaf [22]/6 (blank). Leaves [17]/5.6 and [21]/5.6 tipped in.
Binding:
15th-century blind-tooled calf over wooden boards (29.8 x 20.8 cm), sewn on 3 double supports by the "Dreikönigsmeister" in Magdeburg (EBDB w000332). Gilt-stamped title on top board. Two pairs of catches and clasps on fore-edge with plates stamped "mir." Original plain paper pastedowns and fly leaves; decorative endbands. (Notes in file formerly attributed this binding to Danzig, based on Kyriss archive in Stuttgart; see also Rabenau, "Magdeburg," Einband-Forschung 9 (2001): 29).
Provenance:
Two inscriptions abraded (leaf [1]/1r); "Theol. Baccol. 1637 25 Feb." inscription (leaf [1]/1r); A. Gerits & Son (Amsterdam), 1996; Pierpont Morgan Library, purchased from A. Gerits & Son, 4 Oct. 1996.