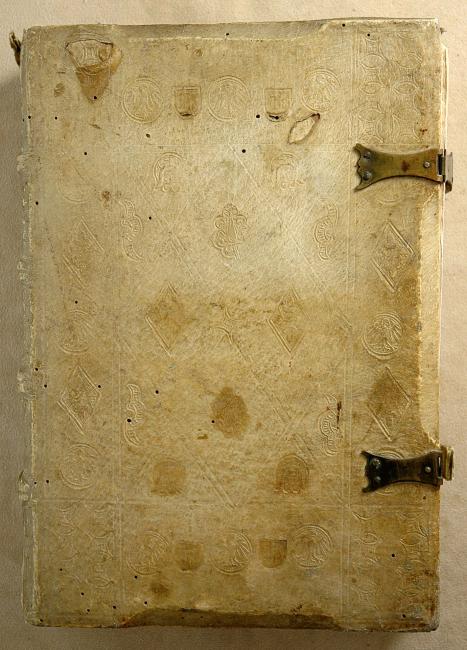 Published:
Tübingen : Johann Otmar, for Friedrich Meynberger, 19 February [14]99.
Description:
[390] leaves ; 30.5 x 21 cm. (fol.)
Credit Line:
Purchased as the bequest of Margaret Woodbury Strong, 1981.
Notes:
Title from half-title page (leaf A1r): Sermones dominicales ex epistolis et evangelys atq[ue] de sanctis s[ecundu]m ecclesie ordine[m] Wilhelmi Cancellary parisiensis.
Colophon (leaf ll8r): Et sic finem sumit sermologus Guilelmi parisiensis. Expensis Friderici meynberger et ductu magistri Joha[n]nis Otmar in Thubing[e]n feliciter exact[us] feria tercia post Invocavit. Anno. 99.
Printed in types 7*:150G, 11:66G, and 13:80G.
In three parts: I) Sermones de tempore super epistolas, II) Sermones de tempore super evangelia, and III) Sermones de sanctis.
Collation: I) A-N⁸ O⁶ P⁸; AA-BB⁶: 130 leaves; II) a-g⁸ h⁶ i-q⁸ r⁶ s-t⁸ [1]⁶ [2]⁸: 162 leaves; III) aa-ll⁸ [3]¹⁰: 98 leaves, leaf 55/10 blank. Quires [1] signed 1-3, [2] signed 4-7, and [3] signed 22-55.
Paper format: Chancery folio
Bearer type on leaves AA1r and aa1r.
PML copy leaf dimensions: 28.5 x 20.5 cm.
Binding:
Contemporary German blind-stamped pigskin over beech boards (30.5 x 21 cm.), sewn on 4 supports by an unidentified southern German bindery: tools attributed to Christus frei II (EBDB w002737, active ca. 1509-1514) and Ulm Augustiner-Chorherrenstift II (EBDB w000060, active ca. 1476-1517). Plain paper fly leaves with manuscript waste reinforcements; plain endbands. 2 clasps, 1 wanting.
Inscriptions/Markings:
Hand decoration: Rubricated, red lombards, paragraph marks, underlining, L-brackets, and capital strokes. Annotations: No marginal notations in text. Manuscript title on fore edge.
Provenance:
Hilprand Brandenburg (1442-1514), of Biberach, bookplate (front fly leaf recto); Buxheim (Swabia), Carthusians, Aula Virgin Mary, donation inscription from Brandenburg to Buxheim written by Jakob Louber, Buxheim librarian (front fly leaf recto), stamp (leaf A1r), and shelf mark: M. 388. (spine), monastery dissolved in 1803 [? and library went to Waldbott-Bassenheim, 1810; Friedrich Karl, Graf von Waldbott-Bassenheim (1779-1830)--not in Buxheim sale, Catalog der Bibliothek des ehem. Carthäuserklosters Buxheim, Munich, 1883]; Jan Willem Six de Vromade (1874-1936), bookplate (inside front board); his sale, Catalogue de la bibliothèque de M.-J. W. Six de Vromade, The Hague, 1925-1930, part I, no. 33; Davis & Orioli, Cat. 112, no. 87; Sotheby's, 24 May 1965, lot 38; Eric Hyde Lord Sexton (1902-1980), Incun. 135, booklabels (inside front board and front fly leaf); his sale, Christie's NY, 8 April 1981, lot 176; Pierpont Morgan Library, purchased via Harper as the bequest of Margaret Woodbury Strong, April 1981.