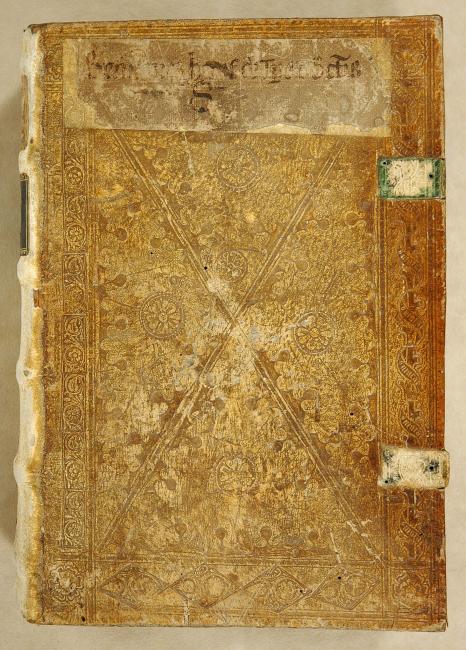 Published:
[Speyer] : Peter Drach, [after 17 January 1484, not after 1486]
Description:
[428] leaves ; 30 cm. (fol.)
Credit Line:
Purchased on the Fellows Fund, 1981.
Notes:
Title from incipit (leaf a1r): "Incipiunt sermones de tempore fratris Henrici Herpf ordinis predicator[um]."
The letter addressed to Drach on leaf 1/1r is dated 17 January 1484. A copy in Tübingen UB bears the rubricator's date '1486'.
Printed in Drach's types 1:130G, 7:84G, and 8:84G.
Collation: 1⁸ 2¹⁰; a-m⁸ n⁶ o-p⁸ q⁶ r-z, A-B⁸; C-L⁸ M¹⁰; N-Y⁸ Z, AA⁶; BB-FF⁸: 428 leaves, leaves a1, B8, and FF8 blank. Leaf 1/1 unsigned, leaf 1/2 signed 1/1.
Chancery folio (29.4 x 21 cm.)
For variants A and B (dedication letter) and corrections to the incipit (leaf a2r), see BSB-Ink.
PML copy is variant A, with "predicator[um]" corrected to "minor[um]" in manuscript (leaf a1r).
PML copy with several leaves stained, torn, and reparied; not affecting text.
Binding:
15th/early 16th-century blind-tooled pigskin over wooden boards (30.5 x 21 cm.), sewn on 4 supports by St. Peter II workshop in Salzburg, 1474-ca. 1523 (see Wind, Die verzierten Einbände der Handschrften der Erzabtei St. Peter zu Salzburg, p. 126). No pastedowns; plain endband at top with leather curled over. 2 clasps, clasps and catches wanting. Manuscript quire guards. Contemporary paper manuscript title label on front board with shelf mark "S." Spine later covered in white paper with leather title and imprint labels and two paper shelf mark labels, "592" and "[?]om. Cl. Num. W. V. [?] 16 a."
Inscriptions/Markings:
Hand decoration: Rubricated, red lombards, paragraph marks, capital strokes, and underlining. Red and blue lombards on leaves a1r, C1r, N1r, and BB1r at section incipits. Annotations: Some contemporary marginal notations. Manuscript alpha-numeric quire signatures at bottom edge, some trimmed.
Provenance:
Salzburg, St. Peter (Benedictines), inscription, "Monasterii S. Petri Salisburgi" (leaf 1/1r), 1767 shelf mark bookplate "551" (inside front board) and likely other shelf mark labels on binding; Austria, Bundesdenkmalamt, stamp (inside front board); André Louis Simon (1877-1970), bookplate with motto: "beatus homo quem tu erudieris domine," signed CF, 1925 (inside front board); his auction, Sotheby's (London), 18 May 1981, lot 113, to Lathrop C. Harper; Pierpont Morgan Library, purchased on the Fellows Fund from L.C. Harper, 1981.