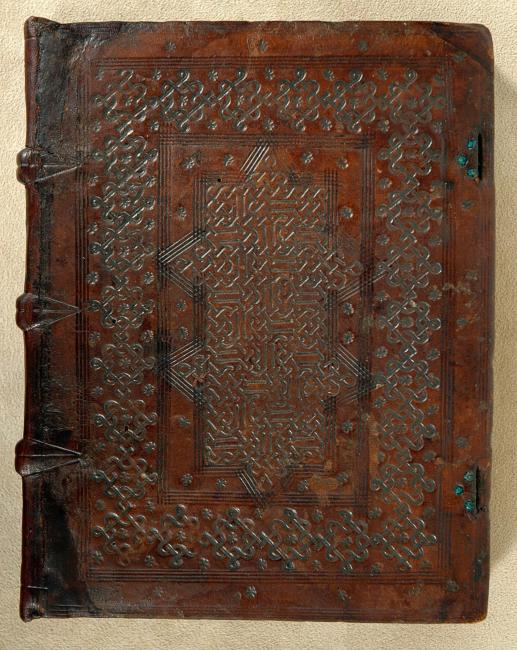 Published:
Cremona : Carolus de Darleriis, 4 October 1496.
Description:
[12], 1-180 leaves (with mistakes) ; 21 x 16 cm. (4to)
Notes:
Title from incipit (leaf b1r).
Colophon (leaf L12r): Opus insigne: ac prope Angelicum Reverendi P.D. Constantii Applani Mediolanensis Canonici Regularis sacrae paginae acutissimi interpretis impressu[m] exactissima op[er]a: studioq[ue] exq[ui]sitissimo Charoli de Darleriis Cremonensis impressoris Egregii i[n] inclita urbe Cremona Anno Domini Millesimo quadringentesimo nonagesimo sexto quarto nonas octobres foeliciter explicit: Imperante vero faustissimo ac Sapientissimo Ludovico Sfor[tia] Ang[e]lo Mediolani Duce. anno faelicissimi principatus eius secundo.
Printed in types 2*:108R and 1:81R.
Collation: a¹²; b-z [et] [con] [rum] A-C⁴ D-K⁸ L¹²: 192 leaves.
Paper format: Chancery quarto
Edition dedicated to Cardinal Ascanio Maria Sforza.
Bearer type visible on leaves L11 and 12.
PML copy on vellum.
PML copy leaf dimensions: 20.8 x 15.8 cm.
Binding:
Contemporary Italian (Cremona?) blind-stamped goatskin over thin wooden boards (21 x 16 cm.), sewn on 3 supports; rebacked by Duprez Lahey. Plain vellum pastedowns and fly leaves; plain endbands; gilt and gauffered edges. 2 clasps, wanting.
Inscriptions/Markings:
Hand decoration: Illuminated, white vine border with jewel motifs and an angel with scroll "ANI MEI DOR NUN," with armorial of Ascanio Maria Sforza and initials AS MA (leaf b1r); rubricated, yellow capital strokes. Annotations: No marginal notations in text. Inscriptions: "Breve dies hominis sunt" and "O mor quam amara est," 15th/16th century (leaf a1r).
Provenance:
Cardinal Ascanio Maria Sforza (1455-1505), illuminated armorial and initials (leaf b1r); Bibliotheca Altempsiana, Rome, inscription: Reg. Bibl. Altemps (abraded, leaf a1r) and shelf mark: Arm° 7 abai ser° no. 30, 17th century (front pastedown); Pierpont Morgan Library, purchased from Bernard Quaritch, Feb. 1907.