November 17, 2015 through January 10, 2016
Every holiday season, the Morgan displays Charles Dickens's original manuscript of A Christmas Carol in Pierpont Morgan's historic library. Dickens wrote his iconic tale in a six-week flurry of activity beginning in October 1843 and ending in time for Christmas publication. He had the manuscript bound in red morocco as a gift for his solicitor, Thomas Mitton. The manuscript then passed through several owners before Pierpont Morgan acquired it in the 1890s.
This season, we turn the manuscript to page fifty-nine, featuring the iconic scene with Scrooge and The Ghost of Christmas Yet To Come. View transcription »
Explore Charles Dickens's A Christmas Carol online and view other related highlights from the collection.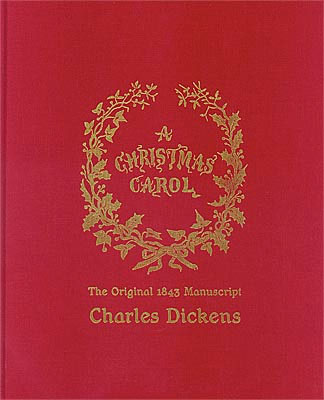 Share in the festivities with your own copy of A Christmas Carol available from the Morgan Shop. This beautifully bound volume contains the facsimile of Dickens's manuscript of A Christmas Carol, published in full-color in its entirety, for the first time.