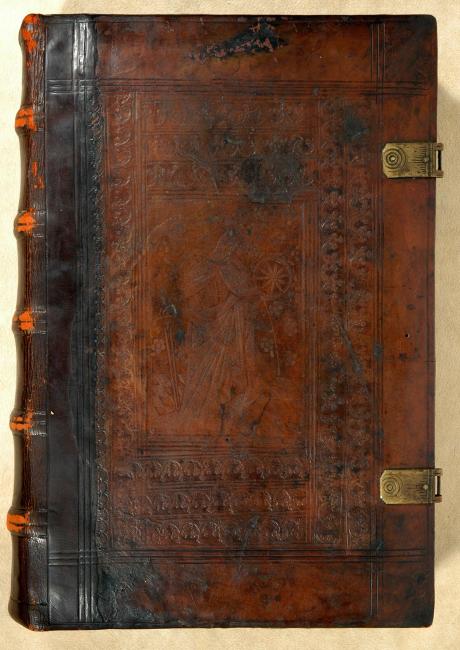 Published:
[Strasbourg] : [Johann Prüss], [about 1507]
Description:
[360] leaves : illus. (woodcuts) ; 31cm (fol.)
Notes:
Title from half-title page (leaf a1r).
Proctor (1448 = 1449) assigned to Quentell in Cologne, BM STC (German, p. 418) to Prüss in Strassburg. BM STC (German) treated as 16th century, and CIBN (II, p. 48) and Fairfax Murray (German, 194) date about 1507. Goff dates about 1499 (ISTC). GW note: "Because of layout and type, not before 1507."
Collation: a⁸ b-k⁶ l⁸ m-r⁶ s⁸ t-z⁶ A⁶ B⁸ C-E⁶ F⁸ G-I⁶; K⁸ L-M⁶ N⁸ O-R⁶ S⁸ T-Z⁶ Aa-Bb⁶ Cc⁸ Dd-Ee⁶ Ff⁸; Gg⁶ Hh⁴; Ii-Ll⁶: 360 leaves.
Chancery folio (30.7 x 21cm). Watermarks include star (not in Briquet or Piccard), crown (unidentified), Bull's head-moon (Piccard II, XIV 31: Braunschweig, Celle, Gosler, Wolfenbüttel, 1506-09), and Glove-star (Piccard XVII, IV 1214 and 1238: Strassburg, 1508).
On the text, see Verfasserlexicon IV, 154-63.
Checklist number changed from 144A to 144C in January 1992 by George Fletcher with the purchase of PML 127250, Ordo missae, [1499-1500], which became 144A.
Binding:
Contemporary German blind- and panel-stamped calf over beveled (chamfered) boards (32.5 x 22cm), sewn on 5 supports, rebacked. Panels depict St. Catherine (front, 12.2 x 7.7cm) and St. Margaret (rear, 12 x 8cm) on checkerboard floors and in front of floral backgrounds. Plain paper pastedowns and flyleaves; decorative endbands. 2 clasps, wanting; brass catch plates with concentric circles around outer nail.
Provenance:
Ludolph Christian Treviranus (1779-1864), signature, "Treviranus P" (front fly leaf recto), he refers to this book in his Die anwendung des holzschnittes zur bildlichen darstellung von pflanzen, 1855, pp. 5-6; his sale, Bonn, Lempertz, 22 May 1865; [F.S.?] Ellis, bookseller, Nov. 30, 1867, £4, pencil note (front pastedown); Bernard Quaritch, bookseller, pencil notes (front fly recto and rear pastedown); Pierpont Morgan Library, bookplate (front pastedown), Pierpont Morgan purchased from Quaritch in 1905, given to Mrs. Morgan in 1922 (Mrs. Morgan's collection), and then given back to the library by Junius S. and Henry S. Morgan, 10 November 1952.