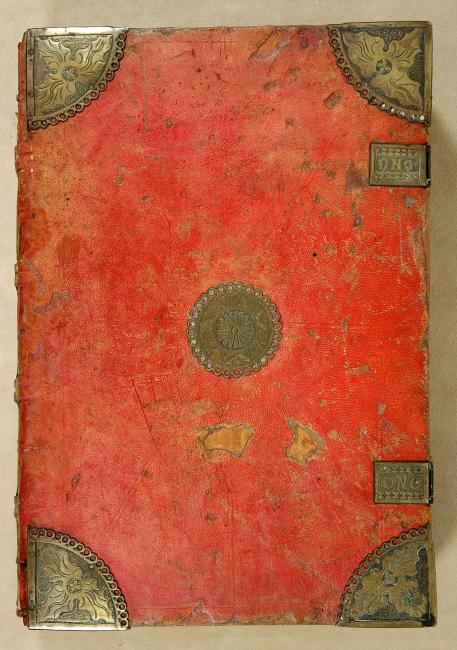 Published:
Rome : Conradus Sweynheym and Arnoldus Pannartz, [before 28 August 1469]
Description:
[234] leaves ; 35 x 24.5 cm. (fol.)
Notes:
Title from incipit of register (leaf [1]/2r): Bessarionis Cardinalis Sabini & Patriarche Consta[n]tinopolitani capitula libri p[ri]mi adversus calu[m]niatore[m] Plato[n]is incipiu[n]t feliciter.
Colophon (leaf [24]/6v): Aspicis illustris lector quicunq[ue] libellos / Si cupis artificum nomina nosse: lege. / Aspera ridebis cognomina teutona: forsan / Mitiget ars musis inscia verba virum. / Co[n]radus suueynheym: Arnoldus pa[n]nartzq[ue] magistri / Rome impresserunt talia multa simul. / Petrus cum fratre Francisco Maximus ambo / Huic operi aptatam contribuere domum.
Printed in types 2:115R and 3:116Gr.
Collation: [1⁸ 2⁶ 3-17¹⁰ 18¹² 19-20¹⁰ 21¹² 22¹⁰ 23-24⁸]: 234 leaves, leaves [1]/8, [24]/7-8 blank.
Median folio (33.9 x 23.9 cm.)
Dated from mention in a letter of Georgius Trapezuntius to Bessarion (J. Monfasani, Collectanea Trapezuntiana (Binghamton 1984), p. 165 sect. 14).
300 copies printed.
Binding:
Contemporary German unstamped, pink-stained leather (sheepskin?) over wooden boards (35 x 24.5 cm.), sewn on 4 supports. Incised brass bosses, corner pieces, and catch plates (incised with "ONO"), 2 clasps wanting.
Provenance:
Ellis, inscription (front pastedown); Bernard Quaritch, collation statement by F.S. Ferguson, 30 June 1903 (rear pastedown); Pierpont Morgan Library, purchased from Quaritch, 1903.