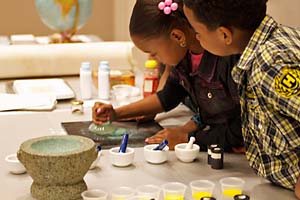 Please note that the majority of our school visits are currently virtual. Please see our Virtual Field Trips page to learn more and schedule yours. On-site field trips are being scheduled on a case by case basis; please e-mail schools@themorgan.org to inquire.
College groups, please e-mail tickets@themorgan.org to reserve your visit.
Colors of the World: Illuminated Manuscripts in the Age of Exploration
Students will step into Europe's past by reenacting skills and techniques that artists used to create the most exquisite medieval and Renaissance manuscripts in the Morgan's collections. They will delve into the art of Western illumination as a means of exploring early Eurasian and African trade routes. This is a two-part field trip; in their first visit students will explore the galleries and learn the basics behind the creation of illuminated manuscripts. In their second visit, students will gain hands-on experience grinding pigments, mixing paints, and creating their own ornate initial using authentic materials and real gold leaf.
Reading a Building: Mr. Morgan and His Library Students will practice visual literacy by learning to "read" architecture as a primary source. Participants will develop a character portrait of J. Pierpont Morgan by looking at his magnificent Gilded Age library.
Before the Book: Myths from Mesopotamia and Greece Students will discover how artists represent and interpret myths through imagery. Participants will explore the visual storytelling of Mesopotamian cylinder seals, the oldest works in the Morgan's collection, and compare them to the Greek myths painted on the ceiling of J. Pierpont Morgan's historic library.
For more information on these programs and our temporary exhibitions, e-mail schools@themorgan.org