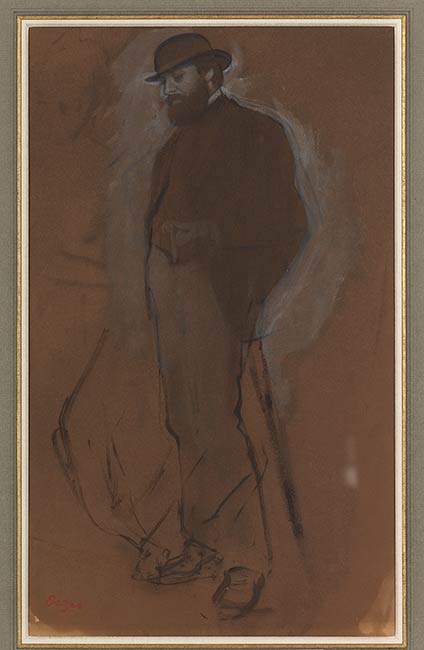 Standing Man in a Bowler Hat; Slight Sketch of a Woman at Left
Essence (thinned oil paint) on brown paper.
12 27/32 x 7 15/16 inches (326 x 202 mm); decorative frame: 25 3/4 x 19 3/4 x 2 1/2 inches
Bequest of John S. Thacher.
Inscription:
Stamped in red ink at lower left corner, "Degas"; inscribed on back of old frame, in pen and black ink, "premiere idée pour le Viol (l'homme / adosse à la porte / vers 1874 / par Degas (Edgar) / peinture à l'essence sur papier huilé / no. 49 de la 2e vente de l'atelier Degas"; and on a label attached to the backing, "M. Guerin / 22 Bd. St. Michel / 14"; numbered on verso, in pencil (?), beneath lining, "237(?)".
Provenance:
The artist's atelier (Lugt 657-58); his sale, Paris, Galerie Georges Petit, 11-13 December 1918, lot 49, repr.; Marcel Bing, Paris; Marcel Guérin, Paris; John S. Thacher, Washington, D.C.
Notes:
Several pentimenti for the pose of the man.
Probably an early study for Degas's painting "Interior (The Rape)" of ca. 1868-69 in the Philadelphia Museum of Art, Henry P. McIlhenny Collection.