Submitted by

Reading Room

on Fri, 11/22/2019 - 3:47pm
This is a guest post by Dawn-Elin Fraser, Associate Arts Professor, Head of Spoken Voice and Speech for the New Studio on Broadway at NYU.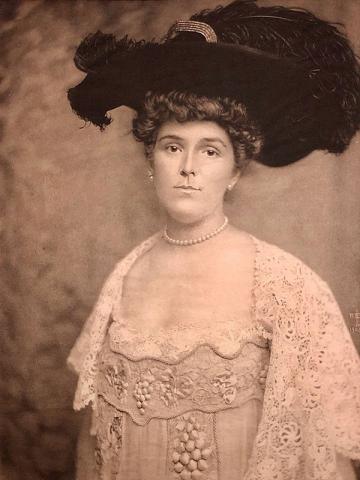 Miss Camilla Moss (AKA Mrs. Frederick Beach from New York).
The American book of beauty, New York : R.H. Russell, 1904,
PML 62661.
As an Associate Arts Professor at NYU's Tisch School of the Arts, I teach in the New Studio on Broadway, where our students focus on both musical theater and heightened text. Our student body is talented, eager, and hungry for opportunity. It is also a student population that is overwhelmingly female identified, though the canon of heightened text (particularly period centered) is primarily written by men with male characters at the heart of the narrative. I wanted to do something to shift that. Edith Wharton, the first woman to win a Pulitzer Prize for her exquisite novel The Age of Innocence, immediately sprang to mind. I started talking to my students about her work and was surprised to find out that most of them had never read any of her novels or even heard of her. Thinking about the young women who study with us and providing them with more opportunities, Wharton's final—and unfinished—novel, The Buccaneers, with its large, almost exclusively female set of characters seemed like the perfect vehicle.

I decided that my adaptation would have female actors playing all of the roles to define the story as being seen through a woman's lens. As I began to write, the text spoke to me in some unexpected ways. One play became two plays, and those two soon became three. What started as a traditional adaptation of a piece of literature into a theatrical project became a triptych of plays: one full length, one one-act, and one solo piece. Among my first thoughts about previous Wharton adaptations was that the main ingredient that made the novels such delicious reading—the clever, often tart narrator's voice—was frequently omitted. Yes, Wharton's plots are compelling, but it's the originality of that narrative voice that keeps us connected page by page.

The first piece, The Buccaneers: Embark, is what I'm calling an adaptation by subtraction. By turning Wharton's brilliant narration into a chorus of Gilded Age society women, my goal was only to subtract and not add text in order to tell this story. I found the best way to do this was to look for themes within the narration that might create through lines for my chorus of eight brand new, individual characters. I wanted to know more about the rules of engagement in what Wharton often referred to as Old New York, and the research library at the Morgan proved the perfect place to discover the nuances and details of this world. With the help of the impossibly skilled librarians, I was guided towards research materials about Mrs. Astor's fabled 400, the cream of New York society at the time, and I used these details to build the characters. Not only that, I was given access to actual books of the period filled with text and photos, many of them from Mrs. Morgan's own private collection.
Isabelle Dorothea Cameron, The American book of beauty, New York : R.H. Russell, 1904, PML 62661.
Leon Edel (1907–1997), Some memories of Edith Wharton, [East Hampton, NY] : Glenn Horowitz, Bookseller, c1993, PML 184938.
The second piece, The Buccaneers: Chapter 27, looks at the chapter of the novel where Wharton stopped writing and decades later Wharton scholar Meredith Mainwaring took over. Part written and part devised in the rehearsal process with the ensemble, the piece asks questions about women's agency, not only in the plot of the play but in society now and then—who has the right to someone's story? By accessing the Morgan's collection of vintage periodicals, I was able to delve into the fashion of the time, the manners and etiquette, and some fascinating advice columns that are fueling discussions within the ensemble of Chapter 27 as we write and create this portion of the play.

Coming from a performance background, research for me is activity-based more often than it is traditionally book-based. One of the nontraditional ways in which I research a skill or a mindset is to choose an activity and commit to doing it daily for a year. When I began researching Wharton's world, friends and colleagues were often quick to point out how little she and I had in common (at least on the surface). I made it my mission to find all of the places where we connected. I thought the best way to do that would be to take on an activity that she did daily and to examine how it changed my life and mindset. Thus, the letter-a-day project was born. While writing a letter a day to friends, strangers, and Edith Wharton herself, I made discoveries about myself and how I interface with my world that helped carve out clarity about Wharton and how she related to hers. A prolific writer who wrote several letters on any given day, she had a fluid, convivial letter-writing style that impressed me and which I endeavored to emulate, if not master. I was able to use the Morgan's collection to learn the proper period form (which Wharton would have learned from her governess, Anna Bahlmann). From what different colors of papers and inks meant to the best ways to sign off and subtly convey another layer of meaning, over the course of the year, my knowledge, and therefore my letters, grew in specificity and nuance.

Out of this project came a weekly routine: while receiving chemotherapy for metastatic breast cancer each week, I'd write a letter to Edith Wharton herself. Through this meditative and therapeutic pause in what could be a daunting and discouraging experience, the final piece, Epistolary Edith, a solo performance piece, was born. The collection at the Morgan enabled me to not only go deeply into Wharton's world but to spark my imagination in ways that I couldn't have predicted before I began my research there.

The feeling of focus and calm in the Sherman Fairchild Reading Room is unlike the atmosphere that I have experienced in other, similar spaces. It's a gem of a space that I'd encourage all writers, artists, and scholars, whether they work in a traditional mode or a non-traditional one, to explore and to enjoy.
Isabelle Dorothea Cameron, The American book of beauty, New York : R.H. Russell, 1904, PML 62661.
---
In addition to being Head of Spoken Voice and Speech for the New Studio on Broadway at NYU, Associate Arts Professor Dawn-Elin Fraser is Director of Professional Training for the Undergraduate Drama Department at NYU's Tisch School of the Arts. She is a voice and dialect coach and current projects include Broadway (What the Constitution Means to Me; Waitress); Off-Broadway (Secret Life of Bees, Atlantic, Theater Company) and Regional (Guys and Dolls, The Guthrie Theater) productions. She has been awarded two Tisch School of the Arts Dean's Grants to create the adaptation of Edith Wharton's The Buccaneers described in this blog and is so grateful for the Morgan Library & Museum and its wonderful staff for their help and support. MFA: American Conservatory Theater; Certified Instructor of the Knight-Thompson Speechwork.