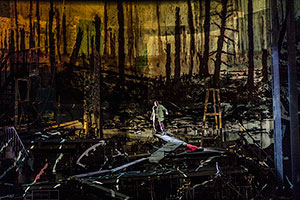 The Metropolitan Opera and the Morgan invite you to hear from South African artist and director William Kentridge, who unveils a new production of Alban Berg's 20th-century masterpiece Wozzeck at the Metropolitan Opera on December 27. Kentridge has been responsible for two of the Met's most dazzling and thought-provoking productions in recent years—Shostakovich's The Nose and Berg's other opera, Lulu—and now returns to oversee the company's first new Wozzeck in more than 20 years. The director will discuss the creative process behind the staging, the inspiration he found in the devastating play on which the opera is based, and the ominous yet captivating pre-World War I setting he has created.

The exhibition Verdi: Creating Otello and Falstaff—Highlights from the Ricordi Archive, will be open for program attendees.
SOLD OUT
Sunday, December 1, 2019, 3 PM
This is a free event. Registration required. Tickets and seating available on a first come, first served basis.