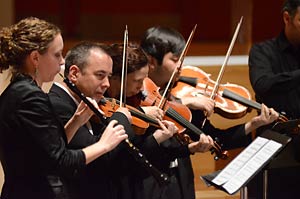 Helicon Ensemble
Avi Stein, Musical Director
Robert Mealy, Concertmaster
Shannon Mercer and Sherezade Panthaki, sopranos
Kirsten Sollek, alto
James Taylor, tenor
Mischa Bouvier, baritone
The noted Helicon Ensemble performs Handel's rarely-heard 1708 oratorio in an intimate chamber version. This concert is co-presented with The Helicon Foundation.
Wednesday, March 25, 2015, 7:30 p.m.
Tickets:
$45; $35 for Morgan and Helicon Members