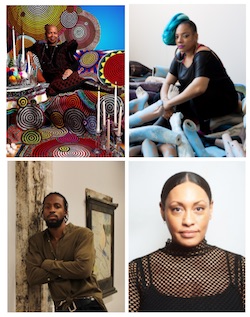 Xenobia Bailey, Abigail DeVille, Daniel T. Gaitor-Lomack, and Nico Wheadon 
In connection with the exhibition Betye Saar: Call and Response, Nico Wheadon, independent curator, educator and writer, will moderate a conversation among three contemporary artists who, like Saar, work with unconventional materials: Xenobia Bailey, Abigail DeVille, and Daniel T. Gaitor-Lomack. The artists will introduce their own practices and discuss the ways in which the medium of assemblage has and continues to be used by artists to address themes of spirituality and racial (in)justice. Co-sponsored by Community Works, The Harlem Arts Alliance and New Heritage Theatre Group.

Please note that the program will take place online. After registering, participants will receive a confirmation email with instructions on how to participate using Zoom. We ask that you download the app in advance for the best user experience.
Wednesday, October 21, 2020, 6 PM