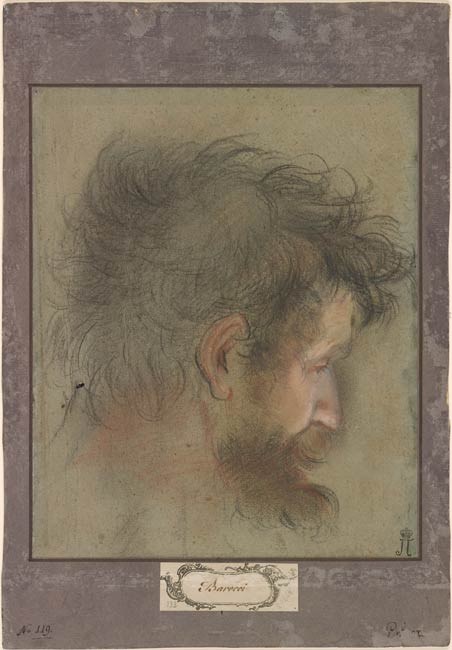 Head of a Bearded Man in Profile to the Right
Colored chalks, with smudging and blending, on blue paper.
12 1/4 x 10 1/16 inches (311 x 255 mm)
Provenance:
Count Carl Cobenzl (1712-1770), Brussels (on his mount inscribed Barocci, see Lugt 2852b); Empress Catherine the Great of Russia (r. 1762-96; purchased with Cobenzl's entire drawings collection in 1768); The Hermitage, St. Petersburg (stamp of Tsar Paul I [1754-1801; Lugt 2061]); Hermitage sale, C.G. Boerner, Leipzig, 29 April 1931, lot 12, as Barocci, probably unsold (two deaccession stamps, one Lugt 2618a, the other not in Lugt); sale, Max Perl, Berlin, 15-16 March 1932, lot 620, as Barocci, Profile Head of a Bearded Man, H.31. W.25.5, black and colored pastels on greenish paper; Dr. Efim Schapiro (b.1899) London (Lugt 2343a); his sale, Sotheby's London, 22 February 1956, lot 9, as Barocci; private collection, Switzerland; from which purchased by Artemis Fine Arts, Ltd., London, by 1986; E.V. Thaw & Co., New York; Peter Jay Sharp (1930-1992), New York; Eugene V. and Clare E. Thaw, New York.
Bibliography:
The Morgan Library & Museum, New York, NY, "Drawn to Greatness: Master Drawings from the Thaw Collection", 2017. Exh. cat., no. 3, repr.
The Thaw collection of master drawings : acquisitions since 2002. New York : Morgan Library & Museum, 2009, no. 2, repr.
N.G Stogdon, Inc., New York, and Artemis Fine Arts (UK) Ltd., London, Drawings from the Fifteenth to Twentieth Century, Spring 1986.
Notes:
Barocci was among the first artists to make extensive use of colored chalks in his drawings. He apparently created this model for the head of a shepherd in a Nativity of Christ executed by the painter Francesco Baldelli, a member of his studio. A faint base of red was applied for the general area of the neck; the face and the ear were then blocked in with red and pink, before passages were rubbed with smooth white chalk to give the impression of glowing skin illuminated by a strong light originating at the lower right. A crisp black chalk was used for the finishing touches. -- Exhibition Label, from "Drawn to Greatness: Master Drawings from the Thaw Collection"
Associated names:
Thaw, Eugene Victor, former owner.
Thaw, Clare, former owner.