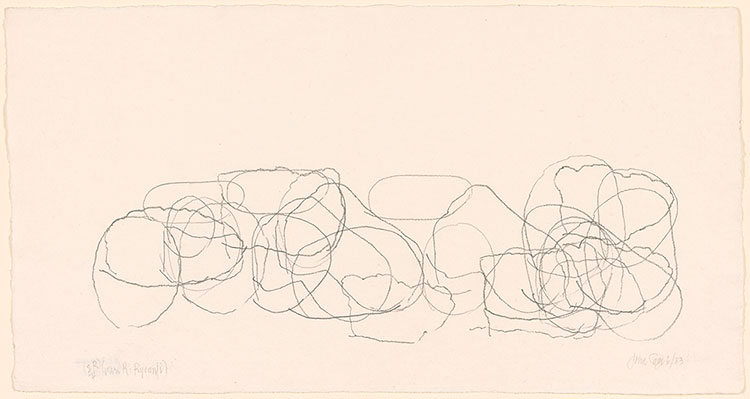 Graphite pencil on handmade wove paper
10 1/8 x 19 5/16 inches (25.7 x 48.9 cm)
Purchased on the Fellows Endowment Fund.
Provenance:
Acquired from the artist by Robert Rauschenberg (1925-2008); Estate of Robert Rauschenberg; from which acquired through Gagosian Gallery.
Notes:
One of the most influential composers of the twentieth century, John Cage also contributed significantly to the visuals arts through his prints, drawings, and watercolors. Cage often relied on chance as a mode of composition. The present sheet belongs to a series inspired by the Zen rock garden of the Ryoanji Temple in Kyoto, in which fifteen rocks are carefully arranged. To make the drawing, Cage traced the perimeter of fifteen stones, using chance operations to determine their placement, the number of times each was represented (here twice, hence 2R), and the number of pencils of different softness he used (4). This drawing was formerly in the collection of artist Robert Rauschenberg, a close friend and collaborator of Cage's from the 1950s on.