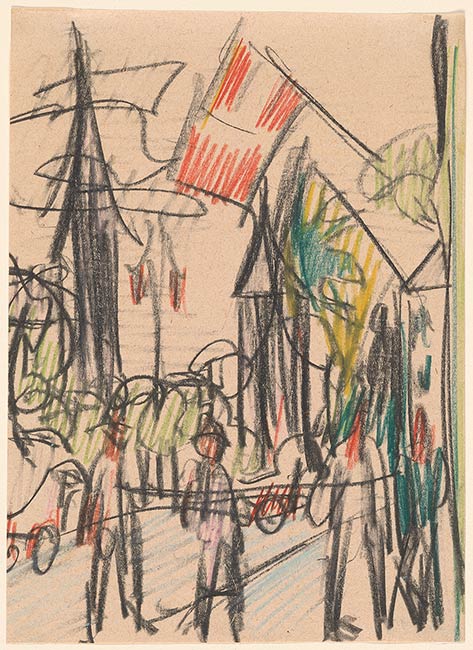 Street Scene in Switzerland
Colored pencils on paper.
8 1/2 x 6 1/4 inches (21.8 x 15.7 cm)
Inscription:
Verso: Estate stamp at lower left corner, in purple ink, number "61" in blue pencil.
Provenance:
Estate of the artist; Galerie Nierendorf, Berlin; from which acquired by Fred Ebb, New York, in 1969.
Notes:
Kirchner was a leading figure of the Brücke (Bridge) group of German Expressionist artists. He considered drawing the medium that best expressed his conception of art as a direct, spontaneous experience. During the First World War, he suffered from mental and physical exhaustion, which resulted in repeated sojourns in sanatoria. In 1917, he moved to Switzerland, eventually settling near Davos, where he spent the rest of his life. This work, executed in a style reminiscent of his prewar Berlin sketches, probably dates from his early years there. The subject combines a city scene in the foreground with mountain peaks in the background, signaling Kirchner's new interest in landscape. Its small size and quick execution indicate that it was likely done from life. The vertical thrust of the image, its angular forms, and nervous hatching are typical of Kirchner's approach and convey the engagement of the artist trying to capture the essence of a constantly changing scene.