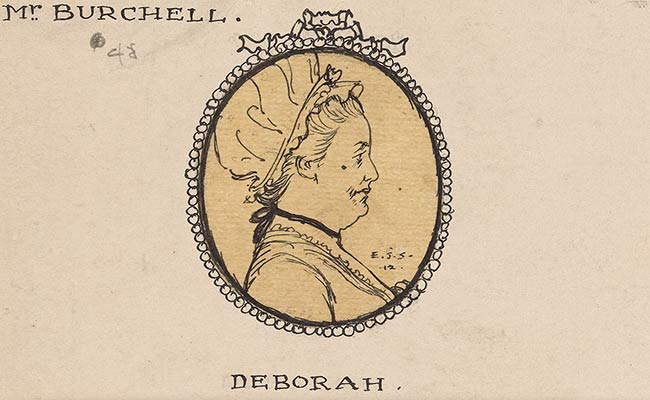 Pen and black ink, on paper, mounted on illustration board.
2 1/4 x 1 13/16 inches (56 x 47 mm)
Bequest of Gordon N. Ray, 1987.
Inscription:
Initialed and dated within design, "E.J.S. 12.".
Provenance:
From the library of Gordon N. Ray.
Notes:
Title from caption inscribed in ink on mount.
Drawing mounted on a sheet of illustration board, meas. 265 x 390 mm, along with seven additional drawings by Sullivan for illustrations for his illustrated edition of The vicar of Wakefield (see 1986.1674-80).
Original drawing by E.J. Sullivan for an illustration for an edition of Oliver Goldsmith's: The vicar of Wakefield. London : Constable & Co., 1914, p. 43.
Summary:
Oval drawing shows the head of an older woman in profile, with mob cap.