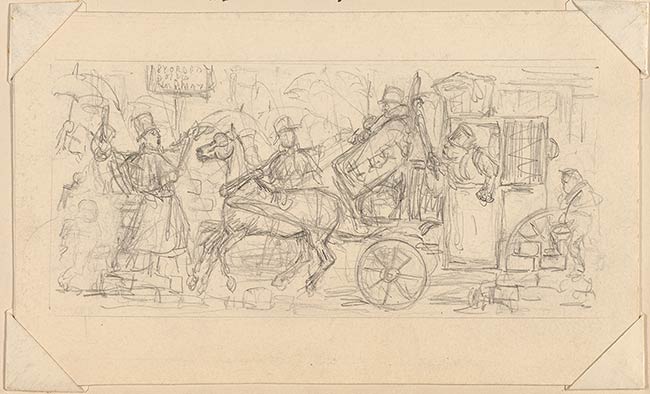 Scene-Fleet Street. Time-7 min. to starting time. Policeman loq.-"Brighton Station? You can't come this way-you must go round by Holbern"
Graphite on paper, mounted onto detached album page.
4 1/8 x 6 7/8 inches (105 x 175 mm)
Bequest of Gordon N. Ray, 1987.
Provenance:
From the library of Gordon N. Ray.
Bibliography:
The illustrator and the book in England from 1790 to 1914 / Gordon N. Ray. New York ; London : Oxford Univ. Pr., 1976, p. 85.
Notes:
Original drawing for no. V of a series of 12 illustrations entitled "Railway miseries," which appeared in "Punch's almanack for 1846," published in: Punch, vol. 10, Jan.-June, 1846.
Summary:
Drawing shows a heavily laden traveller's coach being redirected by a policeman; they are surrounded by construction work and a sign in the background reads "By order of the Lord Mayor."
Associated names:
Ray, Gordon Norton, 1915-1986, former owner.