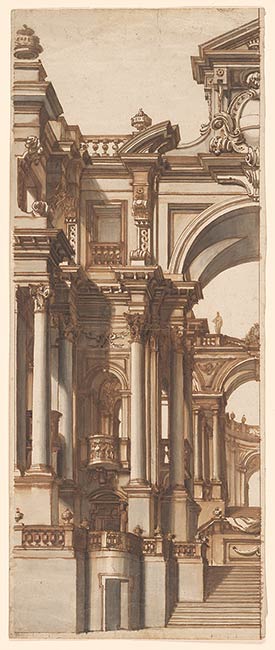 Left half of a "Theatrum Sacrum"
Pen and brown ink, with brown and gray wash, on paper.
16 1/4 x 6 5/8 inches (412 x 168 mm)
Gift of Mrs. Donald M. Oenslager, 1982.
Provenance:
Michael Mayr, Eisenstadt and Vienna (no mark; seeLugt S. 1804a); by descent to Marianne Fajt, Eisenstadt (see Lugt S. 1804a); János Scholz, New York (no mark; see Lugt S. 2933b); acquired in 1951 by Donald M. Oenslager, New York.
Notes:
This drawing is strikingly similar to fig. 71 in Pozzo's "Perspectivo Pictorum et Architectorum," Rome, 1692, representing the Marriage at Cana erected in the Jesuits' church in Rome in 1685.
Negative-Juley.