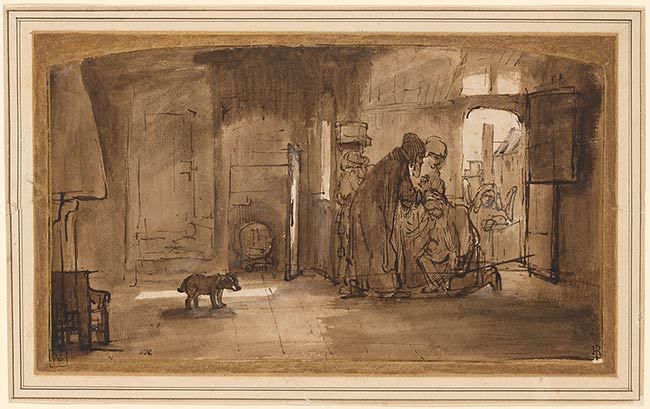 School of Rembrandt Harmenszoon van Rijn
Tobias Receiving his Father's Blessing: "Apocrypha", Book of Tobias, Chap. 5
Pen and brown ink, heavy brown wash throughout, a few corrections in opaque white, such as in the contour of the angel's face, on paper; traces of framing line in brown ink.
5 9/16 x 10 7/16 inches (142 x 266 mm), arched top
Purchased by Pierpont Morgan (1837-1913) in 1909.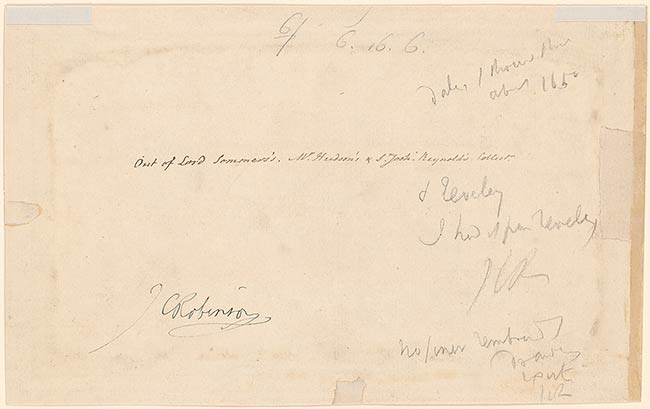 Inscription:
Inscribed at lower left, in brown ink, "a/"; on the verso of the old mount: at upper center, in graphite, "6f / 6.16.6"; at center, possibly in Reveley's hand, in brown ink, "Out of Lord Sommer's, Mr. Hudson's & Sr ["r" in superscript]. Josh. Reynold's Collectn ["n" in superscript]."; below this, in Robinson's hand (and continuing the sequence of inscriptions in brown ink), in graphite, "& Reveley / I had it from Reveley / JCR"; and further below, "no finer Rembrandt / drawing / exists / JCR"; above the ink inscription, also in Robinson's hand, in graphite, "date, I think about 1650; and signed at lower left, in black ink, JC Robinson".
Provenance:
John, Lord Somers (possibly the small "a" inscribed at lower left is the collector's mark of either Padre Resta or Lord Somers, the latter having acquired the Resta collection en bloc; see Lugt and Lugt S. 2981); Thomas Hudson (1701-79), London (Lugt 2432); Sir Joshua Reynolds (1723-92), London (Lugt 2364); Henry Reveley (1737-98), Bryn y Gwin, North Wales (Lugt 1356); his sale, London, Sotheby's, 21 April 1884, lot 155 (to "Thibaudeau" for £15.10.0); Sir John Charles Robinson (1824-1913), London and Edinburgh (mark barely discernible in gold border at lower left; Lugt 1433); Charles Fairfax Murray (1849-1919), London and Florence; from whom purchased through Galerie Alexandre Imbert, Rome, in 1909 by Pierpont Morgan (1837-1913), New York (no mark; see Lugt 1509); his son, J. P. Morgan, Jr. (1867-1943), New York.
Bibliography:
Collection J. Pierpont Morgan : Drawings by the Old Masters Formed by C. Fairfax Murray. London : Privately printed, 1905-1912, I, 193, repr. (as Rembrandt).
Jane Shoaf Turner, with contributions by Felice Stampfle, Dutch Drawings in the Pierpont Morgan Library: Seventeenth to Nineteenth Centuries, New York, 2006, cat. no. 233.
Notes:
Watermark: none visible through lining with fiber optic light.
The drawing is a close copy by an unidentified Rembrandt pupil after another school drawing in the Fodor collection, Amsterdams Historisch Museum (Inv. no. A 10284). Another, less accurate copy is in the Biblioteca Reale, Turin (Inv. no. 16439).
Associated names:
Somers, John Somers, Baron, 1651-1716, former owner.
Hudson, Thomas, 1701-1779, former owner.
Reynolds, Joshua, Sir, 1723-1792, former owner.
Reveley, Henry, 1737-1798, former owner.
Robinson, John Charles, Sir, 1824-1913, former owner.
Murray, Charles Fairfax, 1849-1919, former owner
Morgan, J. Pierpont (John Pierpont), 1837-1913, former owner.