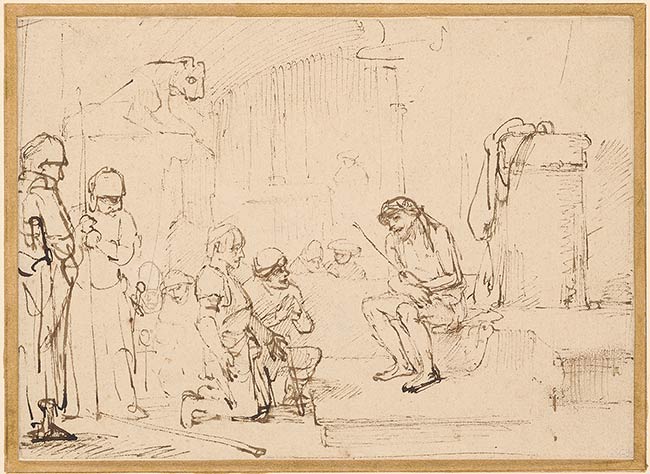 Rembrandt Harmenszoon van Rijn
Mocking of Christ: Matthew 27:27-29
Pen and brown ink on paper.
6 3/16 x 8 9/16 inches (156 x 217 mm)
Purchased by Pierpont Morgan (1837-1913) in 1909.
Inscription:
Faint traces of an inscription (now erased) at lower right, in brown ink, "...3(?)". Inscribed on the verso of the lining, at center, in graphite (nearly erased), "Roscoes Colln ["n" in superscript] / nr. 607".
Provenance:
William Roscoe (1753-1831), Liverpool; his sale, Liverpool, Winstanley, 23-8 September 1816, lot 607: "six by or in the manner of Rembrandt" (to "Stanley" for £0.14.0); Sir John Charles Robinson (Lugt 1433 at lower right, largley obliterated); sale, "deux amateurs connus" [J.C. Robinson and Marquis de Chennevières], Amsterdam, Fredrik Muller and Co., 20-21 November 1882, lot 164: "Jésus-Christ outragé"; Charles Fairfax Murray (1849-1919), London and Florence; from whom purchased through Galerie Alexandre Imbert, Rome, in 1909 by Pierpont Morgan (1837-1913), New York (no mark; see Lugt 1509); his son, J. P. Morgan, Jr. (1867-1943), New York.
Bibliography:
Collection J. Pierpont Morgan : Drawings by the Old Masters Formed by C. Fairfax Murray. London : Privately printed, 1905-1912, I, 189, repr.
Treasures from the Pierpont Morgan Library : Fiftieth Anniversary Exhibition. New York : Pierpont Morgan Library, 1957, no. 96.
Stampfle, Felice and Egbert Haverkamp-Begemann. Rembrandt Drawings from American Collections. Cambridge, MA: Fogg Art Museum; New York: Pierpont Morgan Library, 1960, no. 59, repr.
Stampfle, Felice. Rubens and Rembrandt in Their Century : Flemish and Dutch Drawings of the Seventeenth Century from The Pierpont Morgan Library. New York : Pierpont Morgan Library, 1979, no. 73, repr.
Jane Shoaf Turner, with contributions by Felice Stampfle, Dutch Drawings in the Pierpont Morgan Library: Seventeenth to Nineteenth Centuries, New York, 2006, cat. no. 223.
100 Master drawings from the Morgan Library & Museum. München : Hirmer, 2008, no. 55, repr. [Felice Stampfle and Jane Shoaf Turner]
Notes:
Watermark: none visible through lining.
A less developed version of the same theme, occurs in a drawing formerly in the Léon Bonnat collection and now in the J. Paul Getty Museum, Los Angeles, CA (Inv. no. 83.GA.358; B. V, no. 1024).
Associated names:
Roscoe, William, 1753-1831, former owner.
Robinson, J. C. (John Charles), Sir, 1824-1913, former owner.
Murray, Charles Fairfax, 1849-1919, former owner.
Morgan, J. Pierpont (John Pierpont), 1837-1913, former owner.