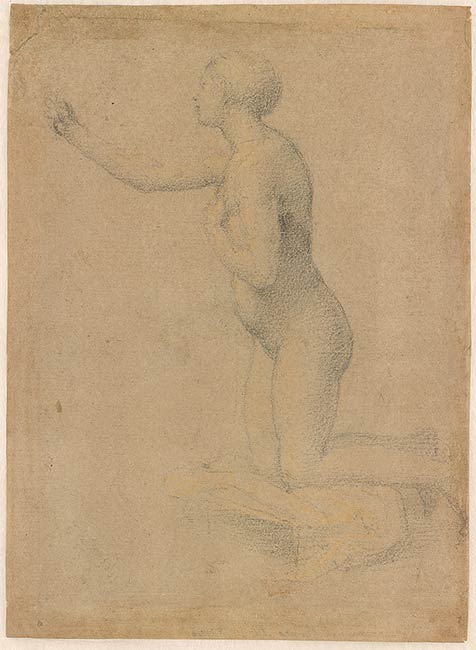 Kneeling Nude in Profile to the Left, with Right Arm Outstretched. Verso: Seated Nude
Black chalk with yellow chalk, on light brown laid paper. Verso: black chalk with yellow chalk.
10 1/4 x 7 7/16 inches (260 x 189 mm)
Purchased by Pierpont Morgan (1837-1913) in 1909.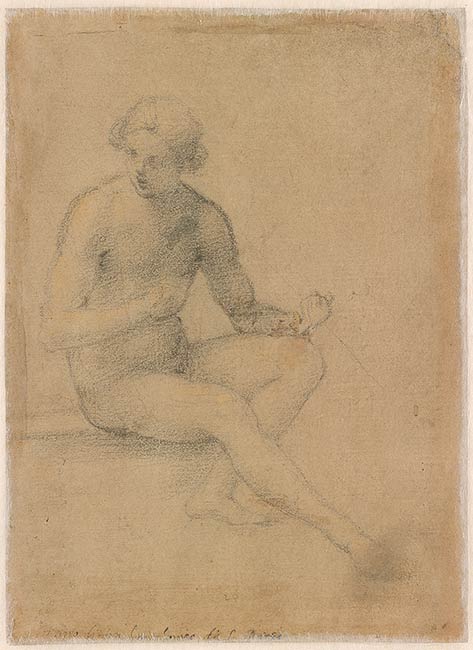 Inscription:
Inscribed on verso near lower edge, in pen and brown ink: "mano di fra bartolomeo da S. marco"; at lower center, in graphite: "20".
Provenance:
Charles Fairfax Murray (1849-1919), London and Florence; from whom purchased through Galerie Alexandre Imbert, Rome, in 1909 by Pierpont Morgan (1837-1913), New York (no mark; see Lugt 1509); his son, J. P. Morgan, Jr. (1867-1943), New York.
Bibliography:
Berenson 1938, 41, no. 459F; Ames 1964, no. 14.
Collection J. Pierpont Morgan : Drawings by the Old Masters Formed by C. Fairfax Murray. London : Privately printed, 1905-1912, IV, 9 and IV, 10.
Notes:
Watermark: Pear on a stem between two leaves. (Briquet II, 7386. Florence, 1507) [Pistoia, 1510-18; Livorno, 1512] Watermark, beta radiograph. Pear fruit with leaves. 140918wm_IV9_10_Albertinelli_WM_beta.jpg
IV, 9 is the recto, IV, 10 is the verso of the same folio.
Formerly attributed to Fra Bartolommeo.