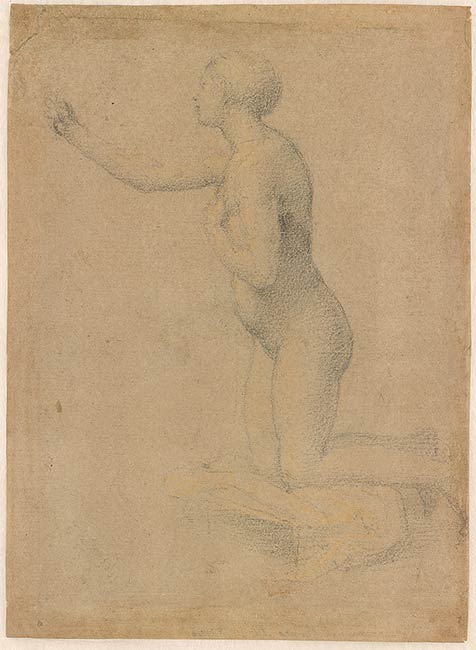 Kneeling Nude in Profile to the Left, with Right Arm Outstretched. Verso: Seated Nude
Black chalk with yellow chalk, on light brown laid paper. Verso: black chalk with yellow chalk.
10 1/4 x 7 7/16 inches (260 x 189 mm)
Purchased by Pierpont Morgan (1837-1913) in 1909.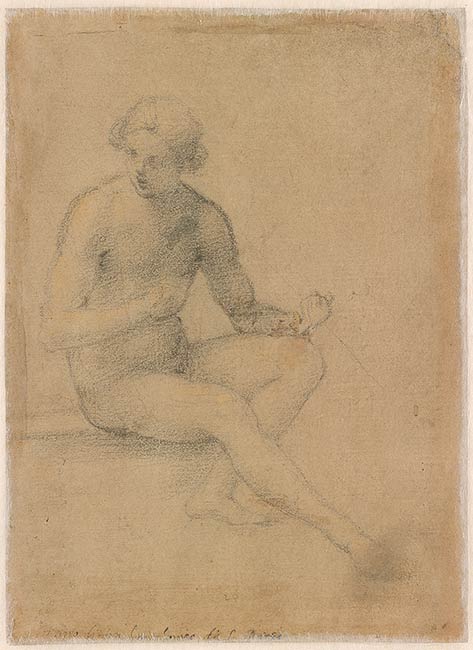 Inscription:
Inscribed on verso near lower edge, in pen and brown ink: "mano di fra bartolomeo da S. marco"; at lower center, in graphite: "20".
Watermark: Pear on a stem between two leaves. (Briquet II, 7386. Florence, 1507) [Pistoia, 1510-18; Livorno, 1512]
Provenance:
Charles Fairfax Murray (1849-1919), London and Florence; from whom purchased through Galerie Alexandre Imbert, Rome, in 1909 by Pierpont Morgan (1837-1913), New York (no mark; see Lugt 1509); his son, J.P. Morgan, Jr. (1867-1943), New York.
Description:
This drawing came to the collection with an attribution to Fra Bartolommeo. In 1994, Chris Fischer recognized it to be a typical example of the draftsmanship of Mariotto Albertinelli, with whom Fra Bartolommeo shared a longstanding and close association starting in the 1490s, when the two artists operated a joint workshop, and strengthening again between 1509-13, when they entered into a partnership. The studies on both sides of the Morgan Library sheet were likely drawn from life.It was not unusual for Albertinelli to work from figural compositions that were invented by Fra Bartolommeo. Among others, the 1509 Visitation (Galleria degli Uffizi, Florence; Borgo 1976, 276-78, no. 8, pl. 12), is based on drawings by the Friar, and notably, the recto of the Morgan Library sheet is related to Fra Bartolommeo's painting of the Creation of Eve (Kress Collection, Seattle Art Museum; inv. 61.145), which is dated to around 1510. Albertinelli probably posed his models with this composition in mind when he was drawing the studies on the Morgan Library sheet. Another, rather less likely possibility is that the two collaborated on the Creation of Eve-painting, with Albertinelli supplying a design for Eve and Fra Bartolommeo one for Adam (see Fra Bartolomeo's study in black chalk, heightened with yellow chalk, for Adam, in the Louvre, Paris, which is also a study from life (inv. 239; Paris 1994-95, 72-73, no. 39). Comparison of the Morgan Library studies with the Louvre sheet, reveals Albertinelli substituting the older master's vigorous lines and hatching with smoother gradations of tone, all the while following, with modifications, the figural types. This is also a feature of other figure studies by Albertinelli, such as a two-sided drawing in the Museum of Fine Arts of the University of Moscow (Borgo 1976, 340-41, nos. 76-77), the recto of which is considered to be preparatory for the Original Sin, dated to 1512, in the Yale University Art Gallery, New Haven (inv. 1959-15-13A); Borgo 1976, 337-42, no. 35). The Moscow studies are close in style to the Morgan Library sheet and, incidentally, are another example of a male assistant being used as a model for Eve.
Albertinelli treated episodes from the Creation and Fall of Man in a number of paintings around 1513-15 (Borgo 1976, 348-49). Albertinelli likely used the study on the recto for his own version of the Creation of Eve, perhaps one like the painting formerly in the collection of Dr. G. Richter, which is a copy of the Seattle composition (whereabouts unknown; sale, Fischer, Lucerne, 30 November-4 December 1965, lot 1676). Also, a panel painting of the Creation by Albertinelli in the Courtauld Institute, London, shows a similarly kneeling Eve emerging from Adam, but with hands clasped and supported by angels (see Borgo 1974, no. 10).
The drawing on the verso may have been intended for some picture incorporating a seated figure of Eve, with the young Cain and Abel after the Expulsion from Paradise, and Berenson suggests the figure represents Eve Spinning. However, the details are difficult to discern and the drawing could, conceivably, also show Seated Adam with an Apple.
Bibliography:
Berenson 1938, 41, no. 459F; Ames 1964, no. 14.
Collection J. Pierpont Morgan : Drawings by the Old Masters Formed by C. Fairfax Murray. London : Privately printed, 1905-1912, IV, 9 and IV, 10.
Notes:
IV, 9 is the recto, IV, 10 is the verso of the same folio.
Formerly attributed to Fra Bartolommeo.
Associated names:
Bartolomeo, fra, 1472-1517, Formerly attributed to.
Murray, Charles Fairfax, 1849-1919, former owner.
Morgan, J. Pierpont (John Pierpont), 1837-1913, former owner.