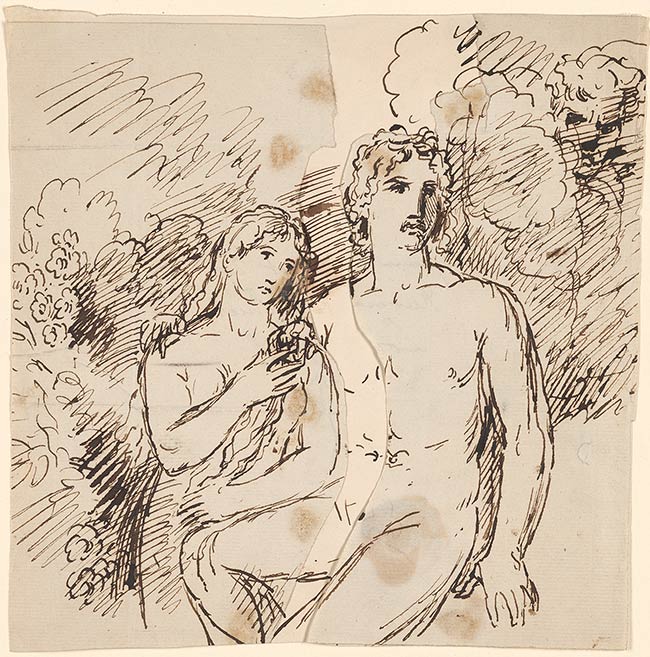 Pen and brown ink, on paper; the drawing has been cut in two parts and pasted on another sheet.
8 1/8 x 7 3/4 inches (207 x 198 mm)
Purchased as the gift of Mrs. Robert H. Charles.
Inscription:
Inscribed in pen and brown ink on verso, "Benjamin West, Esq./Newman Street/London".
Provenance:
Estate of the artist; by descent; Harry Margary, the great-grandson of Maria West (daughter of Raphael Lamar West, and granddaughter of Benjamin West); Thos. Agnew and Sons, Ltd., London; from whom purchased 60 drawings, 17 June 1964, and 197 drawings, 15 February 1965, by M. Knoedler and Co., Inc.; from whom purchased 257 drawings by the Morgan Library in 1970.
Bibliography:
Kraemer, Ruth S. Drawings by Benjamin West and his son Raphael Lamar West. New York : Pierpont Morgan Library, 1975, no. 100.
Notes:
Watermarks: on one sheet, coat of arms with horn and monogram (Similar to Heawood 2767); on the other, J. Budgen 1814.
Perhaps an illustration of some verses of Milton's "Paradise Lost", Book IV.
Associated names:
Margary, Harry, former owner.
Charles, Robert H., Mrs., donor.