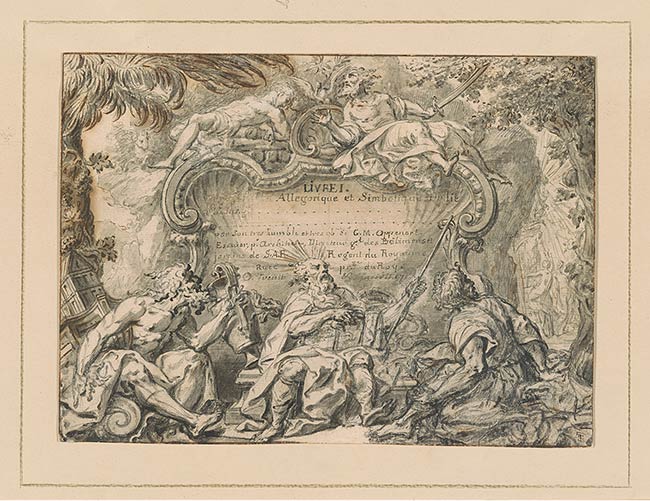 Design for a Title Page, with Four Old Testament Figures
Pen and point of brush and black and brown inks, gray wash, over slight indications in graphite, on paper.
6 x 8 1/4 inches (151 x 207 mm)
Purchased as the gift of the Fellows.
Inscription:
Inscribed by the artist in the cartouche, "LIVRE I / Allegorique et Simbolique dédié / a [Mons.].../ par son tres humble et tres ob. Sr. G. M. Oppenort./ Escuier, p. r. Architecte, Directeur g.l. des Bâtiments et / jardin de S.A.R. Régent du Royaume / avec pr.ge du Roy / O. invenit & incidit 17...".
Provenance:
Charles-Eugène Bérard (1838-1890s), Paris; his sale, Paris, Hôtel Drouot, 16-20 February 1891, nos. 300 A-B; Armand Sigwalt (1875-1952), Paris (Lugt 175); Henri Baderou (1910-1991), Paris.
Bibliography:
Pierpont Morgan Library. Review of Acquisitions, 1949-1968. New York : Pierpont Morgan Library, 1969, p. 157.
Adams, Frederick B., Jr. Fourteenth Annual Report to the Fellows of the Pierpont Morgan Library, 1965 & 1966. New York : Pierpont Morgan Library, 1967, p. 120.
Notes:
The Morgan preserves two studies by Oppenord related to a frontispiece probably intended for a volume devoted to the Old Testament that was never realized. The present sheet is a revised and finished design that has been squared for transfer to the engraving plate, while no. 1964.21 is a preliminary design for the composition.
At left is Noah, holding the arc and an urn, at center is Moses with his tablets and staff and a serpent behind him, and at right a third patriarch, possibly Jacob, who turns to gaze at his vision of a ladder to heaven. At top are Abraham and his son Isaac, flanking the holy spirit in the form of a dove.
One of the most prominent architects and designers of interiors during the first quarter of the eighteenth century, Oppenord played a leading role in the development of the rococo. Toward the end of his career, as commissions dwindled and he no longer occupied a central position, Oppenord produced a large number of designs for book illustrations, including the four in the Morgan's collection (see also 1964.22, 1964.23).
Associated names:
Bérard, Charles-Eugène, former owner.
Sigwalt, Armand, former owner.