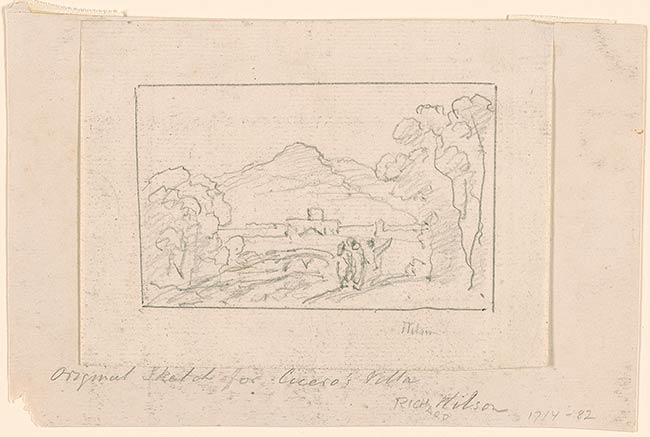 Framed Landscape of Cicero's Villa
3 11/16 x 4 15/16 inches (93 x 125 mm)
The Joseph F. McCrindle Collection.
Inscription:
Inscribed at lower right in graphite: "Wilson"; inscribed on mount in graphite: "Original sketch for Cicero's villa / Richard Wilson 1714-82"; inscribed on verso: "Cicero at his Villa"; "Top / Wilson / FK". Inscribed on back of mount in graphite: "K3146".
Provenance:
Joseph F. McCrindle, New York (McCrindle collection no. C0058).
Notes:
Watermark: Fleur-de-lis within a circle?
Summary:
Richard Wilson first traveled to Italy in 1750, when, under the influence of Joseph Vernet (1714-1789) in Rome, he generally turned from portrait to landscape painting. Wilson returned to England probably in 1757 and ran a small studio in Covent Garden. While in Rome, he drew classical monuments and visited and produced sketches at several destinations on the Grand Tour. Wilson stopped in Naples at least twice. During his time in Italy, he kept two sketchbooks, one dated 1752, now at the Victoria & Albert Museum; the other was produced in 1754 and is now in the collection of Mr. and Mrs. Paul Mellon. This drawing can be likened to other imaginary landscape designs produced for the Italian sketchbooks, which have drawings that are mainly in black chalk on white paper. Here Wilson situates one of Cicero's villas, known only through his famed letters, in a quickly rendered landscape. Its atmospheric feeling is particularly like Wilson's rapid landscape sketches in the later sketchbook.
Associated names:
McCrindle, Joseph F., former owner.