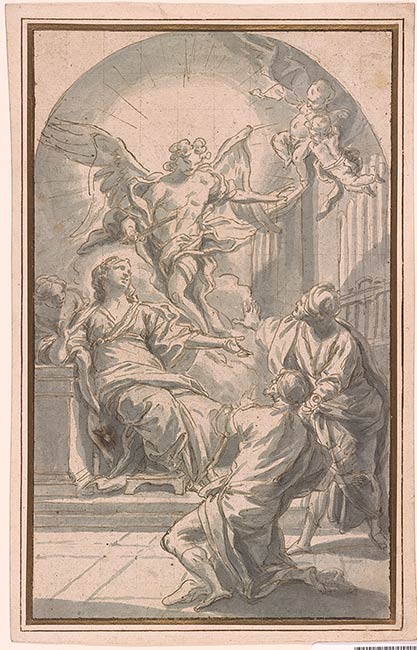 Saints Cecilia, Valerian, and Tibertius
Pen and brown ink and gray wash with black chalk grid for transfer on paper.
10 15/16 x 6 5/8 inches (277 x 168 mm)
The Joseph F. McCrindle Collection.
Provenance:
P. & D. Colnaghi & Co., Ltd., London; from which acquired by Joseph F. McCrindle, New York, 9 July 1964 (McCrindle collection no. A0711).
Summary:
Saint Cecilia piously rises to heaven while her husband Valerian and his brother Tiberius, who also suffered martyrdom with her, watch. A fourth figure on the right side of the sheet is probably the Roman soldier Maximus, who also died around 230 under the Emperor Alexander Severus. The drawing is squared for transfer, indicating it is perhaps a study for a larger devotional work.
Associated names:
McCrindle, Joseph F., former owner.