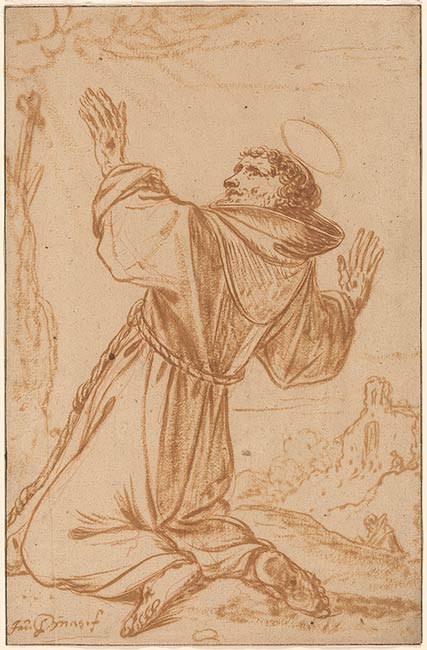 St. Francis Receiving the Stigmata. Verso: Composition with a Camel
Brush and thin brown oil paint, over red chalk, on paper; framing line in dark brown ink; verso: offset in brown oil paint.
11 1/16 x 7 3/16 inches (280 x 183 mm)
Purchased by Pierpont Morgan (1837-1913) in 1909.
Inscription:
Signed at lower left, in brown oil paint, "Jac. Pynas · f ["c" has upside down breve; "n" has macron]". Inscribed on the verso, at lower right, in graphite, "Lot 3 / B. White".
Watermark: Fleur-de-lis in shield, surmounted by crown, (Strasbourg lily),(similar to Heawood, nos. 1663-5: Amsterdam, 1646).
Provenance:
B. White; Charles Fairfax Murray (1849-1919), London and Florence; from whom purchased through Galerie Alexandre Imbert, Rome, in 1909 by Pierpont Morgan (1837-1913), New York (no mark; see Lugt 1509); his son, J. P. Morgan, Jr. (1867-1943), New York.
Bibliography:
Stampfle, Felice. Rubens and Rembrandt in Their Century : Flemish and Dutch Drawings of the Seventeenth Century from The Pierpont Morgan Library. New York : Pierpont Morgan Library, 1979, no. 51, repr.
Jane Shoaf Turner, with contributions by Felice Stampfle, Dutch Drawings in the Pierpont Morgan Library: Seventeenth to Nineteenth Centuries, New York, 2006, cat. no. 202.
Notes:
This sheet is one of three signed drawings representing St. Francis beside a small church on a hillside at the right, each more or less the same scale. A drawing in the Museum Boymans-van Beuningen, Rotterdam, shows the saint kneeling in prayer before a rude cross and holding a crucifix, his rosary looped over his wrist. The third drawing of St. Francis, in the Albertina, Vienna, is in red chalk and shows the saint in a slightly different kneeling posture, without the crucifix and book of the Rotterdam version. All three were probably done as preliminary studies for Pynas's signed painting of the "Stigmatization of St. Francis", whose whereabouts are unknown which was on the London art market in 1930 and again in 1991.
Associated names:
White, B., former owner.
Murray, Charles Fairfax, 1849-1919, former owner.
Morgan, J. Pierpont (John Pierpont), 1837-1913, former owner.