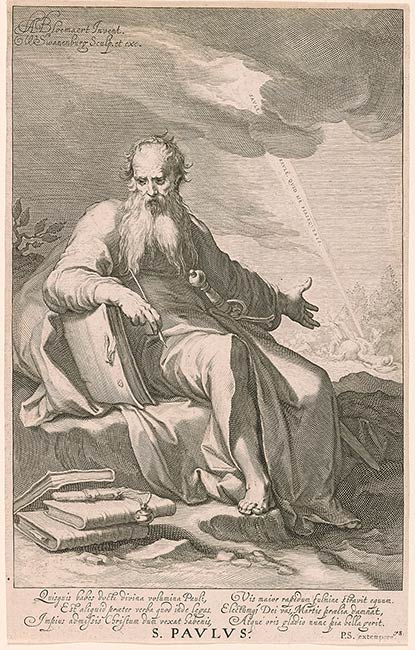 St. Paul, after Abraham Bloemaert
10 3/4 x 6 5/8 inches (273 x 168 mm)
Gift of William M. Voelkle.
Inscription:
Inscribed at upper left, "A Bloemaert Invent. / W Swanenburg Sculp. Et exc."; in the ray of light, "SAULE, SAULE, QUID ME PERSEQUERIS."; in lower margin, "Quisquis habes docti divina columina Pauli, / Est aliquid praeter verba quod inde legas. / Impius admissis Christium dum vexat habenis / Vis maior rapidum fulmine stravit equum. / electumq[_] Dei vas, Martis proelia damnat, / Atque oris gladio nunc pia bella gerit. / S. PAULUS. P.S. extempore. 78."
Provenance:
William M. Voelkle, New York.
Notes:
Watermark:
This print is part of a series of penitent saints engraved and published by Willem van Swanenburg after designs by Abraham Bloemaert, who conceived of them as three contrasting, yet compositionally related pairs: Peter and Paul, Zachaeus and the Magdalen, and King Saul and Judas Iscariot. Below each figure is an inscription composed by C. Plempius and Petrus Scriverious, two renowned Latinist poets. To portray the theme of sinners as a group was a fairly unique inconographic development that conveyed a strong Counter-Reformatory message in its promotion of the sacrament of penance, which had been refuted by the Calvinists. The typically Mannerist proportions and contorted poses of Bloemaert's figures clearly informed Swanenburg's often serpentine handling of the engraved line. Each figure is presented monumentally and in a dramatic pose, and background vignettes relate to the subjects' individual narratives. Our set of prints appears to have been issued for the 1719 edition of Gerard de Lairesse's Principles of Drawing. (Andaleeb Banta)