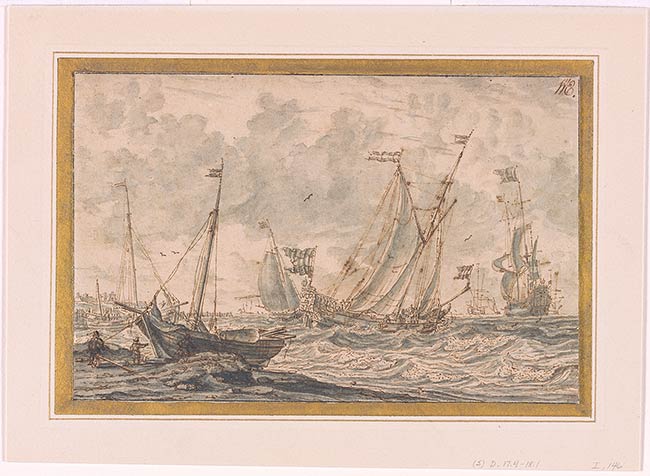 A Fishing Weyschuit Hauled up on the beach; a Dutch States Yacht Sailing off the Land in a Fresh Breeze
Pen and brown ink, gray wash, over graphite, on paper; framing line in black ink.
3 7/8 x 6 inches (100 x 153 mm)
Purchased by Pierpont Morgan (1837-1913) in 1909.
Inscription:
Inscribed on the verso, at lower left, in graphite, "a/u"; and below, in Esdaile's hand, in brown ink, "1816 WE N 50x P98. J. Storck".
Watermark: Arms of Amsterdam fragment, (similar to Heawood, no. 434: Holland, c. 1685), rampant lion.
Provenance:
William Esdaile (1758-1837), London (Lugt 2617); his sale, London, Christie's, 18-25 June 1840, one of three in lot 1145 (as J. Storck): "A pair of small sea pieces; and a harbour scene, indian ink" (to Gibbs for £0.5.0); James Gibbs (fl. mid-19th century), London (no mark; see Lugt 1125, identified as John Gibbs); Charles Fairfax Murray (1849-1919), London and Florence; from whom purchased through Galerie Alexandre Imbert, Rome, in 1909 by Pierpont Morgan (1837-1913), New York (no mark; see Lugt 1509); his son, J. P. Morgan, Jr. (1867-1943), New York.
Bibliography:
Collection J. Pierpont Morgan : Drawings by the Old Masters Formed by C. Fairfax Murray. London : Privately printed, 1905-1912, I, 146, repr. (as Abraham Storck).
Notes:
The central ship is disconcertingly represented with its sail billowing out to the right and its hull pitched to the right, while it is clear from the flags and other boats that the breeze is blowing strongly from the right. The motif must have been copied from another composition and inappropriately integrated here by the copyist.
Associated names:
Storck, Abraham, 1644-after 1704(?), Formerly attributed to.
Esdaile, William, 1758-1837, former owner.
Gibbs, James, 19th cent., former owner.
Murray, Charles Fairfax, 1849-1919, former owner.
Morgan, J. Pierpont (John Pierpont), 1837-1913, former owner.