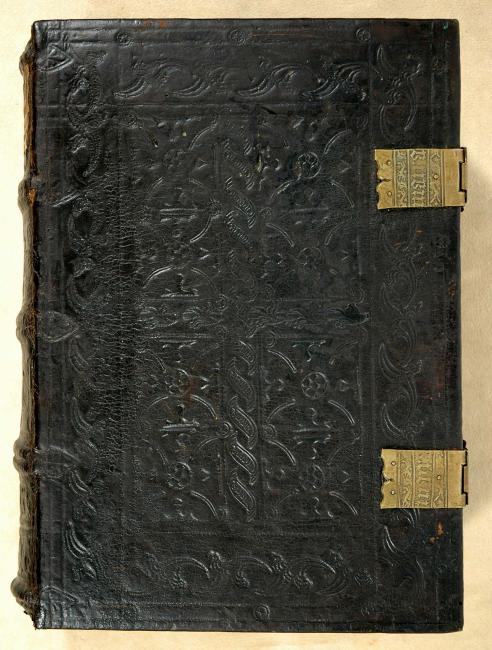 Published:
[Urach] : [Conrad Fyner], Anno 1483
Description:
[468] leaves ; 31 cm. (fol.)
Notes:
Title from incipit (leaf [4]/1r): Scriptum in primum librum Sentenciarum venerabilis inceptoris fratris Guilhelmi de Ockam Anglici veritatum i[n]quisitoris p[ro]fundissimi...
Colophon (leaf [58]/10r): Explicit Scriptum sup[er] primum libru[m] sententiaru[m] Venerabilis inceptoris m[a]g[ist]ri wilhelmi de Ocka[m] Anglici. Anno .1483.
Printed in Fyner's types 4:180G, 5:95G (with 3:96G), and 6:120G.
Ascribed by Proctor to Esslingen, by BMC to Urach.
Collation: [1¹⁰ 2-3⁸; 4-57⁸ 58¹⁰]: 468 leaves, leaves [1]/1 and [3]/8 blank.
Paper format: Chancery folio
Woodcut initials.
The printer introduced a system of textual reference by printing capitals at the top of columns, see Curt F. Bühler, "Notes on Conrad Fyner's Press in Urach," Gutenberg Jahrbuch (1936), pp. 63-68.
PML copy leaf dimensions: 29 x 20.6 cm.
Binding:
Contemporary blind-stamped calf over beech boards (31 x 22 cm.), sewn on 5 supports (Kapitalbund?) by the Lambach Benediktinerkloster workshop (EBDB w002363), active ca. 1443-1500; repaired by Duprez-Lahey. Former pastedowns removed, manuscript offset on inside of boards. 2 clasps, with blind-stamped leather straps; brass attachments stamped with "maira" [sic].
Variant Title:
In primum librum Sententiarum Petri Lombardi
Inscriptions/Markings:
Hand decoration: Rubricated, red paragraph marks, capital strokes, and underlining; woodcut initials painted and embellished. Annotations: No notations in text. Contemporary alpha-numeric manuscript quire signatures.
Provenance:
Wolfgang Eysengeringer, donation inscription to Stift Lambach, 1489: "Hunc librum testatur est monasterio nostro Lambacensis frater Wolfgangus Eysengering olim sacerdos secularis certa tempus sue professionis Anno 1489" (leaf [1]/1v); Sotheby's London, 24 April 1934, lot 114 to Quaritch (collation note, rear pastedown) for Morgan; Pierpont Morgan Library, April 1934.