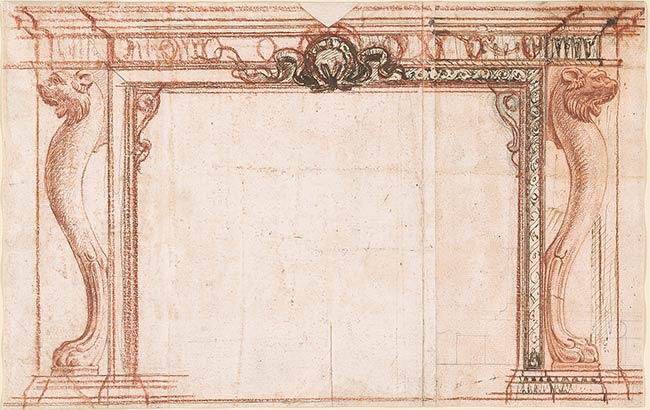 Giovanni Battista Piranesi and workshop
Design for a Chimneypiece with a Wreath at Center and Lion Monopods. Verso: Fragmentary sketch of a wall panel
Pen and brown ink, over red and black chalk, on two sheets of paper pasted together; verso: pen and brown ink.
9 1/8 x 14 5/16 inches (232 x 364 mm)
Bequest of Junius S. Morgan and gift of Henry S. Morgan.
Inscription:
Sheet 1: Watermark: Fleur-de-lis inside circle, letter "B" below circle, fragment. On left sheet of paper.
Sheet 2: Watermark: Fleur-de-lis inside double circle, with letters "CB" above circle, fragment. On right sheet of paper.
Provenance:
Mrs. J. P. Morgan, New York; by descent to her sons Junius S. Morgan, Princeton and Paris (no mark, see Lugt 1536) and Henry S. Morgan, New York.
Bibliography:
Stampfle, Felice. Giovanni Battista Piranesi, Drawings in the Pierpont Morgan Library. New York : Dover, 1978, no. 63, repr.
Notes:
Study for an etching in "Diverse maniere d'adornare i cammini," 1769, f. 893.
This drawing is an interesting and complex work, different in character from most of the rougher sketches associated with the Diverse Maniere. It is constructed of two sheets of paper, and the monopods, particularly that at right, are not drawn by Piranesi himself, although they might be attributed instead to Nicolas François-Daniel Lhuillier, as Christoph Frank first suggested. It is as though Piranesi took an existing drawing of the monopod by Lhuillier (the right half of the sheet) and had Lhuillier or some other assistant copy it in reverse for the left jamb of the chimneypiece; after the sheets were joined, Piranesi himself seems to have drawn, with a thicker piece of red chalk, the architectural framework and a first sketch of the ornament on the lintel, which he then refined with pen and ink.
The monopods could have been based on any of a number of ancient remains (or modern copies of those) in Piranesi's workshop: an alabaster example from Piranesi's collection that was sold to the Vatican Museum after his death (now in the Sala degli Animali), or another which Piranesi sold to Charles Townley through Thomas Jenkins in 1774 (now in the British Museum), or those of the tripod sold by Francesco Piranesi to Aubrey Beauclerk in 1778, recorded in the Vasi, Candelabri as plate 72. At a certain point, however, it becomes difficult to know whether (or when) Piranesi had an actual object in mind, or just a drawing of it.
The wall panel sketch on the verso is probably related to Piranesi's work at Santa Maria del Priorato; it may be an early design idea for the wall enclosing the piazza outside the complex.
Associated names:
Morgan, Jane Norton, 1868-1925, former owner.
Morgan, Junius Spencer, 1892-1960, former owner.
Morgan, Henry S. (Henry Sturgis), 1900-1982, former owner.