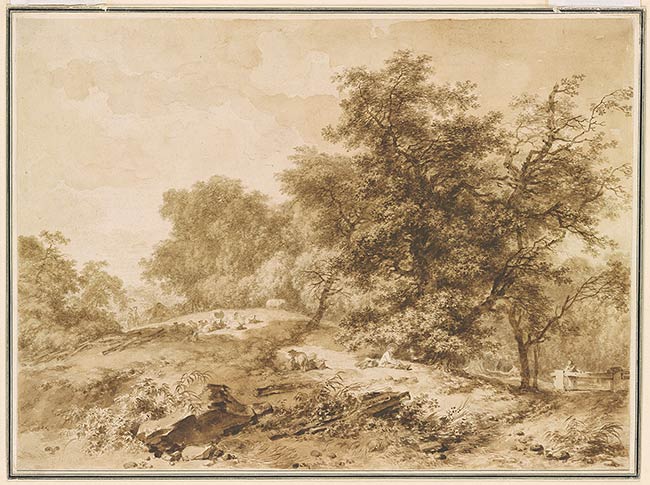 Landscape, with flocks and trees
Brush and brown wash, over graphite, on paper.
13 9/16 x 18 3/8 inches (344 x 466 mm)
Purchased by Pierpont Morgan (1837-1913) in 1909.
Inscription:
Inscribed on back of mount, in pen and red ink, "No. 7", and "No. 44./F".
Provenance:
Sir James Knowles (1831-1908; Lugt 1546), London; his posthumous sale, London, Christie's, 27-29 May 1908, lot 238; Charles Fairfax Murray (1849-1919), London and Florence; from whom purchased through Galerie Alexandre Imbert, Rome, in 1909 by Pierpont Morgan (1837-1913), New York (no mark; see Lugt 1509); his son, J. P. Morgan, Jr. (1867-1943), New York.
Bibliography:
Collection J. Pierpont Morgan : Drawings by the Old Masters Formed by C. Fairfax Murray. London : Privately printed, 1905-1912, III, 114, repr.
"Landscape Drawings and Watercolors: Bruegel to Cézanne", New York, The Pierpont Morgan Library, catalogue by Felice Stampfle, 1953, no. 32, pl. XI
Treasures from the Pierpont Morgan Library : Fiftieth Anniversary Exhibition. New York : Pierpont Morgan Library, 1957, no. 105, repr.
Alexandre Ananoff, "L'Oeuvre dessiné de Jean-Honoré Fragonard, 1732-1806", 4 vols., Paris, 1961-1970, III, no. 1380, fig. 389;
Denison, Cara D. French Drawings, 1550-1825. New York : Pierpont Morgan Library, 1984. no. 71.
Denison, Cara D. French Master Drawings in the Pierpont Morgan Library. New York : Pierpont Morgan Library, 1993, no. 70, repr.
From Leonardo to Pollock: Master drawings from the Morgan Library. New York: Morgan Library, 2006, cat. no. 81, p. 170-171.
100 Master drawings from the Morgan Library & Museum. München : Hirmer, 2008, no. 78, repr. [Jennifer Tonkovich]
Stein, Perrin, et al. Fragonard: Drawing Triumphant: Works from New York Collections, Metropolitan Museum of Art, 2016, no. 45.
Notes:
Watermark: none visible through lining.
Fragonard executed this sheet almost entirely with a wet brush in an almost pointillist technique. The scene reveals the artist's affinity for the Dutch landscape tradition, especially the work of Jacob van Ruisdael. In this drawing Fragonard has distilled some of Ruisdael's characteristic compositional devices, including the predominant diagonal composition dominated by a leaning tree, the shaft of sunlight illuminating the foreground, and the trees silhouetted against the sky. As Perrin Stein noted, this bravura drawing was likely preceded by "casual black chalk sketches in notebooks now dispersed." A painting of the same composition, with slight differences, was sold in Paris in 2014, and is now in a private collection. Some scholars have dated the painting ca. 1763-65, while others assign it a later date of 1766-70 (see Stein 2016, 160).
Associated names:
Knowles, James, Sir, 1831-1908, former owner.
Murray, Charles Fairfax, 1849-1919, former owner.
Morgan, J. Pierpont (John Pierpont), 1837-1913, former owner.