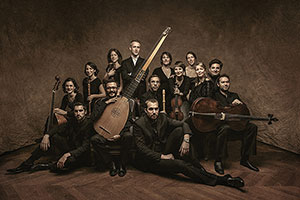 Boston Early Music Festival
Join us for a series of outstanding virtual early music concerts recorded in the US and abroad. 
Ensemble Correspondances
Sébastian Daucé, director Lucile Richardot, mezzo-soprano
Perpetual Night: 17th-century Ayres and Songs
Sébastian Daucé and Ensemble Correspondances are renowned for recordings and performances of Baroque masterpieces that merge passion and elegance. For this virtual performance, they are joined by the hauntingly intense voice of Lucile Richardot in a showcase of English songs from the politically turbulent 17th-century. Indulge in a fascinating exploration of England's musical evolution, when continental influences and social upheaval shaped the period between John Dowland and Henry Purcell.
"Exquisite singing that is most beguiling"–Opera News
Saturday, April 24, 2021, 8 PM
STREAMING BROADCAST
This concert will be broadcast (on the Morgan's YouTube channel) on Saturday, April 24th at 8 pm EST and remain available until the end of the day on Saturday, May 8th.